Cuban Bats Awaken in 8-1 over Puerto Rico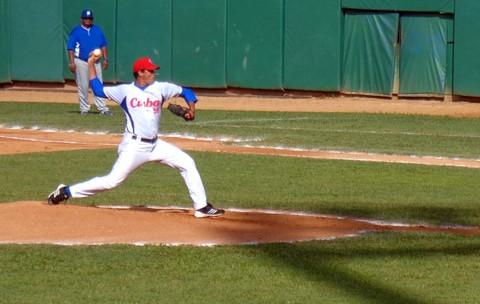 HAVANA TIMES — After being held to one hit on Sunday against the USA, the Cuban lineup flexed some muscle on Monday with a convincing 8-1 win over Puerto Rico in the Pan American Games baseball tournament, reported Ray Otero of baseballcuba.com.
A total of ten hits including a three run homer from Urmari Guerra in the 7th inning, plus solid pitching from starter Yosvany Torres (1-0), put the Cuban's record at 2-1, the same as the USA which defeated Colombia 5-3. The US had lost to Puerto Rico (now 1-1) by a score of 10-9 on the opening day on Saturday.
Torres pitched seven innings of seven-hit, one-run ball with one walk and one strikeout. He only had one tense moment as he cruised. The early lead also gave him extra confidence.
The big difference, in comparison to the game against the USA, was that none of the Puerto Rican pitchers faced have a fast ball in the mid-nineties as many of the US hurlers, something the Cubans are not used to in their league.
Cuba got on the scoreboard first with a two run bottom of the second on an infield hit by Urmari Guerra, who was added to the roster on Monday. He scored on a double to left by Rudy Reyes. After Malleta grounded out allowing the runner to reach third, Raul Gonzalez then laced a single to score Reyes.
The Puerto Ricans managed their lone run in the top of the third. Afterwards, a bases loaded double play from pitcher to catcher to first on a roller by Robert Peña ended the only potential rally.
Richar Thom, who had three hits on the day, opened the inning with a double. After a roller from Gabriel Rojas resulted in the first out, Torres had control problems, hitting Jeffrey Dominguea and issuing a walk to Anthony García to load the bases. Egardo Baez then hit a blooper to short right which allowed Thom to score.
Torres was in big trouble but got out of the jam by forcing Roberto Peña to bat into a double play from pitcher to catcher to first.
From then on the right-hander cruised on three hits during the next four innings, one the second double by Thom. Torres was replaced by Yunier Cano who pitched the final two innings allowing one hit with two walks and three strikeouts.
Meanwhile, Cuba scored two more in the bottom of the third on a double by Alexander Malleta with Cepeda and Reyes on base. Another run came in the fourth off reliever B. Cepeda, on an RBI double by Frederich Cepeda scoring Yorbis Borroto who had singled.
B. Cepeda fell victim to Cuba's final three runs in the seventh when outfielder Urmari Guerra hit a three run homer with Freddy Cepeda and Alfredo Despaigne on base.
With two wins in three outings at the Pan American Games, Cuba can advance to the semifinals of the tournament with at least one more win. They would like that to be against Canada on Tuesday at 7:00 p.m. (ET) with lefty Yoani Yera announced as Cuba's starting pitcher by manager Roger Machado.