Cuban Cardinal Celebrates Cuba-US Dialogue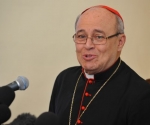 HAVANA TIMES – Cuban Cardinal Jaime Ortega applauded Tuesday the process of restoring relations between his country and the USA, during a liturgy in the Basilica of San Juan de Letran, in the Vatican City.
"The wall of mistrust that separated the US and Cuba seemed indestructible. History remained standing. But nothing is impossible," he said in his speech, where he also alluded to the role of the Pope in the contacts between the two nations.
"My heart is filled with great hope for the future of the Cuban people and I am happy to share this joy," said Ortega, who in recent years has been one of the main mediators between the Cuban government and the opposition on the island.