Cuban Defeats Cuban in Olympics Boxing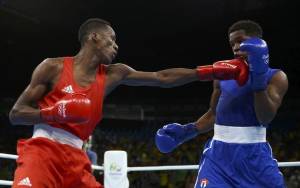 HAVANA TIMES — The emigrating of Cuban athletes to other countries has increased in frequency over the years making possible events such as yesterday with a Cuban facing a Cuban in a Rio Olympics bout.
Light welterweight Yasniel Toledo for Cuba met Lorenzo Sotomayor Collazo, a Havana native and cousin of Cuba's Olympic high jump champ Javier Sotomayor (1992).  Sotomayor Collazo was representing Azerbaijan his adopted country.
With a unanimous decision from the judges, the 31-year-old Sotomayor, a Cuban national champion in 2009, ended the hopes of Toledo, 26, to battle for his second Olympic Medal.
"These things happen. I wish him all the best and that things work out well,"  Toledo, a lightweight bronze medalist four years ago told Reuters. "He was better, he did his work well and in the end he deserved the win."