Cuban Diplomat Requests Asylum in USA
Wilfredo Cancio Isla  (Cafe Fuerte)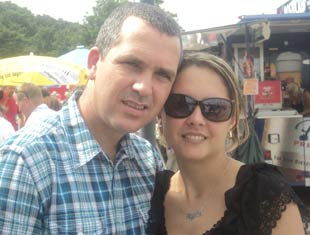 HAVANA TIMES – Cuban journalist and diplomat Sonia Franco Cervera has abandoned her post as consul at the Cuban Embassy in Germany and is currently in Miami, after having requested political asylum from US authorities.
Sources told CafeFuerte that the 31-year-old Franco arrived in the United States in July this year, accompanied by her 3-year-old son Franco, after travelling from Berlin to Mexico and crossing the US border to invoke the Cuban Adjustment Act (CAA).
Apparently, Franco's decision was prompted by the unexpected trip and subsequent arrest in Havana of her husband Daciel Alfonso Guzman, who was the deputy chief of Cuba's diplomatic mission in Germany.
"We don't know much about what happened, but it is confirmed that Daciel [Alfonso] was called to a meeting at the Ministry of Foreign Affairs (MINREX) in Havana and that he suspected something was wrong," a source involved in the case stated in Berlin. "They made the decision that she go to the United States with the kid."
Erased from the Official Site
According to another testimony, Franco's first move was to request aid from the US Embassy in Berlin. Her request didn't yield any results and she decided to use her diplomatic passport to travel to Mexico. She is currently staying in the home of some friends in Miami.
CafeFuerte tried to contact Franco in Miami, but desisted after several unsuccessful attempts. A person involved in this situation said that the former diplomat is going through a very tense moment and does not wish to make any declarations about what happened.
For the time being, Alfonso's name has been removed from the webpage of the Cuban Embassy in Germany and a blank space has been left under the heading of Deputy Chief, with an email left as reference. Belkis Rodriguez Hidalgo appears as the First Secretary in the Consular Section page.
"We've heard versions of the story here that Daciel was called to give a full accounting following complaints about the performance of his duties, but nothing concrete has been leaked and people suspect there is something more serious behind this," a source linked to MINREX said in Havana.
Veteran Intelligenge Official
Rene Juan Mujica Cantelar, who presented his credentials in October of 2013 to replace Raul Becerra Egaña, currently figures as Cuban Ambassador in Berlin. Mujica is a veteran Cuban intelligence officer who has served as diplomat at the Cuban Interests Section in Washington, Cuba's UN mission in New York and as Ambassador in London.
Alfonso began at the Cuban Embassy in Germany as Deputy Secretary and was promoted to First Secretary and Deputy Chief last year. Franco had been the head of the Consular Office since September of 2012.
Born in Moron, Ciego de Avila, Franco obtained a journalism degree from the Faculty of Communications of Havana in 2005 and completed a Master's at the Higher Institute for International Relations (ISRI) before joining the diplomatic service. The couple married in 2007.
This is the first desertion by a Cuban diplomat since March of 2010, when 25-year-old Yusimi Casañas and her husband, 32-year-old Michel Rojas, left the Cuban Embassy in Mexico and crossed the border to request asylum in the United States. Casañas, who had worked at Cuba's UN mission, was the head of the Passports Section of the Cuban Embassy in Mexico.