Cuban Dissidents and Exiles Show Unity in Miami
Despite several key leaders unable to attend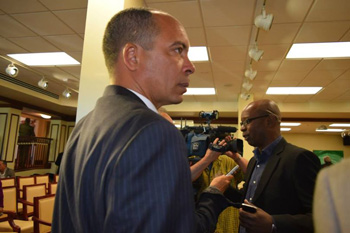 HAVANA TIMES — Cuban dissidents and exiles met in Miami on Wednesday to begin forging a new united front, despite the absence of some of their most prominent figures.
"There are many differences, but far from weakening us, they strengthen us in our struggle," said activist Darsi Ferret, based in Miami.
Ferret moderated the "Convention for Democracy in Cuba", a space for debate in which dissidents from the island and leaders and ordinary citizens in exile expressed their views on the new situation in Cuba following the resumption of relations with the US and what they can do as Cubans to achieve a fully democratic country.
The meeting took place in the famous Calle Ocho neighborhood of Little Havana in Miami, in a cafe and cultural center whose walls are filled with large cartoons of great Cuban artists and even blogger Yoani Sánchez.
Sanchez did not attend the event, nor her husband, Reinaldo Escobar, who according to organizers could not get a plane ticket.
Likewise, Berta Soler, leader of the Ladies in White, and Guillermo Fariñas, did not travel for the event. Both have been critical of the rapprochement between Havana and Washington.
Among the promoters were Eliecer Avila and Manuel Cuesta Morua, who came from the island, and Rosa Maria Paya, daughter of the late Oswaldo Paya and now settled in Miami.
Around a hundred persons attended the convention, which took place on January 28, the birthdate of Cuban national hero José Martí, adding symbolism to the event.
"We don't have the formula. Each of us is part of that solution and that formula," said Ferret, calling for unity to articulate the "tools of change."
"We have been too far from each other, and it is time for that to change. If we come together, our voices will have to be taken into account," said the activist.
"We're just starting here together; we need the participation of everyone, this is the little seed. Many people both inside and outside the island are missing. A number came and there are many other faces that would make us happy to see here. No-one is superfluous, we need them all," said Ferret extending an invitation to those groups who are wary or removed from the initiative to discuss and collaborate together.
"Are we Cubans ready for unity? I say yes, this is just the beginning. The word that prevails today is unity," said activist Fernando Villa.