Cuban Doctors to Remain in Venezuela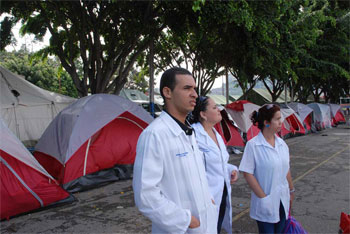 HAVANA TIMES — The over 40,000 Cuban doctors and other professionals working in Venezuela will continue providing humanitarian services in that South American nation, reported the official Granma newspaper in the wake of the death of President Hugo Chavez.
"The tens of thousands of Cubans working in Venezuela will pay homage to him by fervently carrying out their internationalist duties and they will continue to serve the Bolivarian people with honor and altruism throughout this ordeal," reads the news article.
Contingents of doctors and other specialists from the island have worked in Venezuela for several years as part of cooperation agreements advantageous for the Cuban economy and Venezuelan social programs.
The Cubans currently working in Venezuela include 31,777 serving in medical missions; 6,225 in sports programs; 1,905 in the Corazon Adentro Cultural Program and 486 in education, etc.