Cuban Gov. Sees Worsening Relations with the United States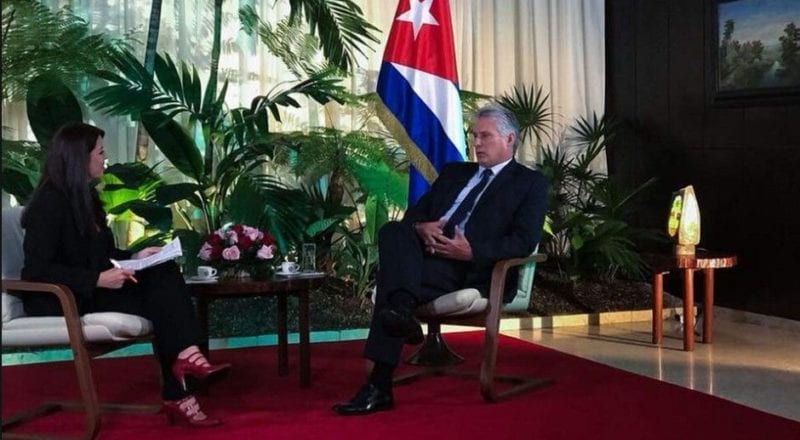 HAVANA TIMES – Cuban President Miguel Diaz-Canel said Sunday that his country's relations with the United States are in retreat and asked President Donald Trump for a respectful dialogue, reported dpa news.
The Cuban president is preparing to travel to New York for the upcoming session of the UN General Assembly. His close ally, Daniel Ortega of Nicaragua, is also heading to New York and says he wants to talk with Trump.
"We do not deny the possibility of dialogue, but it must be of respect, where our convictions are not conditioned, because we do not accept impositions," said Diaz-Canel in an interview with Telesur from Havana.
Diaz-Canel maintained his government's willingness to enter into dialogue with the United States, but did not see much hope for the development of meetings "if this abhorrent attitude of the United States Government is maintained."
"We must ask the president of the United States if he wants to have a dialogue with Cuba," said Diaz-Canel who clarified that the dialogue "cannot be from an arrogant attitude."
"The dialogue is built, but you cannot aspire to a dialogue with one party that conditions the other," said the Cuban president in the interview held at the Palace of the Revolution.
Diaz-Canel pointed out that the elimination of the term "communism" in the draft of the new Cuban constitution is not a renunciation of revolutionary principles because the term of socialism is maintained and "either of the two terms implies the other."
"The most worried about whether or not we are communists are the ones who have been attacking us for all of their lives, which shows a double standard," said Diaz-Canel.
On the other hand, it will not be changed that the Communist Party of Cuba is the only legal political organization on the island and that it is constitutionally considered as "the superior leading force" of the Cuban State and society.
"The enemy of the Cuban revolution knows that its weapon is to fragment our unity," he said without naming but in allusion to the United States and the Cuban anti-Castro organizations of South Florida, which have a great political influence in Washington.
In another part of the interview Diaz-Canel defended the inclusion in the new Constitution of the possibility that people of the same sex can get married.
"I agree, I think is that the approach of recognizing marriage between people, without limitations, responds to a problem of eliminating any type of discrimination in society," he told Telesur in the interview broadcast Sunday.