Cuban Hip Hop in Panama on the Eve of the Summit of the Americas
by Tracey Eaton  (alongthemalecon.blogspot.com)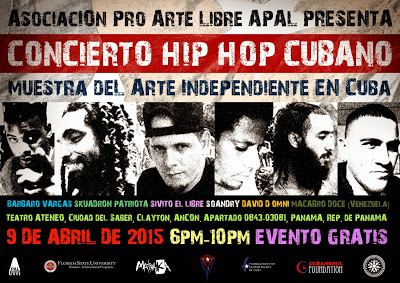 HAVANA TIMES – Cuban and Venezuelan hip-hop artists plan to perform in Panama on April 9, the eve of the Seventh Summit of the Americas.
The Asociación Pro Arte Libre is presenting the concert. It will feature Maikel Extremo, Bárbaro Vargas, Raudel (S4dron Patriota), David D Omni, Silvito El Libre, Soandry (Hermanos De Causa), and Macabro Doce from Venezuela.
News of the concert appears on the Cuban Soul Foundation website. The foundation received $75,000 from the National Endowment for Democracy, according to the NED's 2014 annual report.