Cuban Opposition Reports 180 Arrests for Obama's Visit
HAVANA TIMES — The Cuban opposition reported Monday on the arrest of 180 activists in recent days related to the visit to the island by US President Barack Obama.
The number of arrests "would be around 180," said Elizardo Sanchez, spokesman for the banned but tolerated Cuban Commission for Human Rights and National Reconciliation (CCDHRN) told dpa news.
Most were arrested on Sunday during a protest of the Ladies in White in the neighborhood of Miramar, on the west side of Havana, a few hours before Obama initiated his historic visit to Cuba.
Dozens of women and other activists were arrested after their peaceful opposition march was met by a counter-demonstration of hundreds of supporters of the government of Raul Castro.
The leader of the Ladies in White, Berta Soler, accused the authorities of violently repressing the group. In total there were about 50 Ladies in White and twenty other activists arrested on Sunday, said Soler, who also alerted that the police have warned them not to organize protests.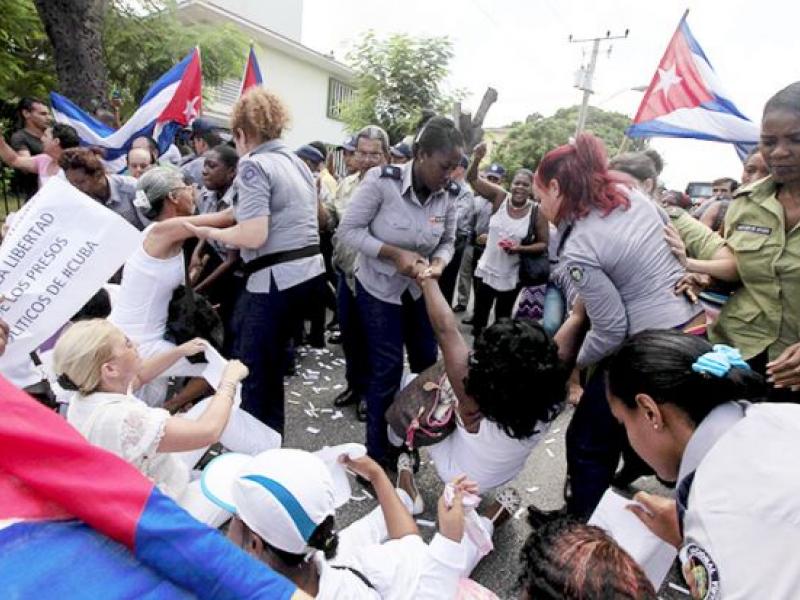 "They say they will not let us leave our homes," Soler told dpa. The leader of the group of wives and relatives of former political prisoners said the activists would attempt to protest again on Monday in the same place, on the second day of Obama's visit in Cuba.
The US president meets with his Cuban counterpart Raul Castro on Monday morning. Obama arrived Sunday in Havana as the first US president to visit Cuba after the 1959 revolution.
The US leader has said on several occasions that he would continue criticizing the situation of dissidents in Cuba, despite the new policy of dialogue with the Castro government. Obama's visit is framed in the thaw that both countries began in December 2014, after over a half century of ideological enmity.
Obama is scheduled to meet Tuesday with a number of Cuban dissidents. Soler, who has been invited to the meeting at the US embassy, ??said she plans to attend, though she fears being detained en route to the meeting. Elizardo Sanchez also plans to attend the meeting if he can make it to the embassy.