Cuban President Visits Maduro in Venezuela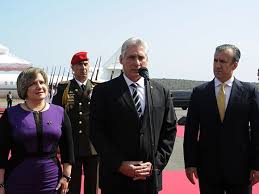 HAVANA TIMES – Cuban President Miguel Diaz-Canel arrived in Caracas today to meet his Venezuelan counterpart, Nicolas Maduro, on his first official trip abroad since he assumed the presidency in mid-April, reported dpa.
"We bring a fraternal and solidary message from the people of Cuba to the Venezuelan people and to President Nicolas Maduro," said Diaz-Canel upon his arrival in Caracas.
It is expected that the Venezuelan President, Cuba's most important political and economic ally, will receive Diaz-Canel this afternoon at the Miraflores Palace.
Venezuelan Vice President Tareck El Aissami received Diaz-Canel at the airport. The Cuban leader traveled accompanied by his wife Lis Cuesta.
"I'm very happy to be in Venezuela; Long live the Bolivarian revolution and President Maduro," said Diaz-Canel.
"All the recognition and congratulations for the overwhelming success achieved in the victory in the elections," the Cuban said after landing. Maduro ran virtually unopposed, in the May 20th presidential elections that were boycotted by the main opposition. and were not recognized by the United States, the Union European Union and the countries of the Lima Group.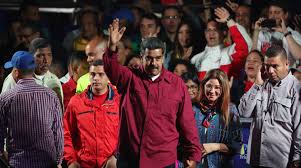 Díaz-Canel's agenda includes a visit to the tomb of former President Hugo Chávez (1999-2013) at the Cuartel de la Montaña, and he is also scheduled to lay a wreath at the National Pantheon, where the remains of the hero Simon Bolivar rest .
The Cuban delegation is also composed of the Foreign Minister, Bruno Rodriguez and the Deputy Minister of Foreign Affairs, Rogelio Sierra.
On April 20, Maduro was the first president to receive Diaz-Canel in the Havana Palace of the Revolution, after being elected as Raul Castro's successor.
Cuba and Venezuela are strategic partners since the governments of Fidel Castro and Hugo Chavez, which includes agreements to supply Venezuelan fuel to Havana in exchange for Cuban professional services.