Cuban Reaches US by Windsurfing
One success, another alive, another missing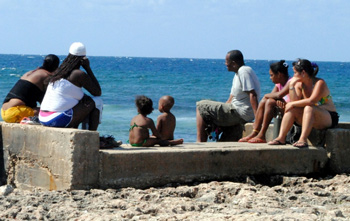 HAVANA TIMES — A Cuban braved the shark infested Florida Strait and successfully windsurfed nine hours from Jibacoa, a fishing village east of Havana, to Florida. He landed at a luxury resort in Key West where he was assisted by guests and waiters.
BBC Mundo reports that Henry Vergara Negrín, 24, actually started out on Tuesday morning with two companions (he gave only their first names, Amando and Dwarta) but lost trace of them four hours into their journey.
The good news is that Dwarta was found by the US Coast Guard Thursday morning, although in a disoriented state floating south of the Florida Keys.
The bad news is that there is no news of the fate of Amando, the third windsurfer.
Negrin is the first Cuban windsurfer to "escape" the island in such a fashion in two decades. BBC Mundo notes there were a couple of cases back at the time of the 1994 rafters crisis.
According to the Cuban Adjustment Act and its Wet Foot, Dry Foot clause, Cuban citizens that reach the United States territory on their own have the right to stay in the country.  They are given assistance that no other immigrant group receives as well as a fast track to permanent residency.