Cuban Women in Music Space
Text and photos by Irina Echarry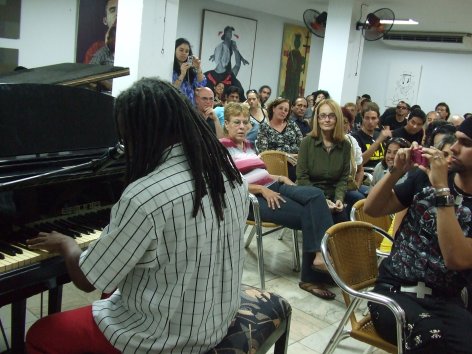 HAVANA TIMES, April 26 – Taking the title from a Jose White song —"La Bella Cubana"— a program has been organized to discuss the work of women connected to the universe of music.
When creating this space, professor and musicologist Alicia Valdes intended to give light and voice to such females. Singers, composers, researchers and others have partaken in this forum that takes place monthly in the Villena Room at the National Union of Cuban Writers and Artists (UNEAC).
This past April 16, the invitation went to Maria Gattorno, a cultural promoter who gave life to the former "El Patio de Maria" cultural center on calle 37 in Havana. From 1987 to 2003, El Patio de Maria filled a hole that existed for rock groups, giving them a chance to expand and improve the developmental perspectives by providing a stable place for them and their followers.
That's why it was not strange to hear testimonies of the gratefulness of musicians who found understanding and support in this woman, despite the young age of most of the members of the bands as well as the stigma that fell like a curse on those rockers (at the end of 1980s, they were looked upon as misfits and drug addicts in the eyes of general Cuban society).
Though she herself faced prejudice, this promoter served to advance the youth movement in those difficult years.  Maria created an initiative called "Rock against AIDS, Alcohol and Drugs," which provided many youth with an understanding of a better road to retrace their lives. At the forum, members of the band Hipnosis treated her to some of their songs and trova musician Gerardo Alfonso sat down at the piano to dedicate verses to his friend.
The recognition of Maria Gattorno was a pretext to pay homage to Cuban rock and to spotlight the work of cultural promotion, which is sometimes a rather hidden. Maria recalled the fact that El Patio welcomed other musical phenomena, such as its first trova sessions titled "Dream."
Click on the tumbnails below to view all the photos in this gallery