Cuban Youth Targeted by New US Leadership Training Program
Tracey Eaton  (alongthemalecon)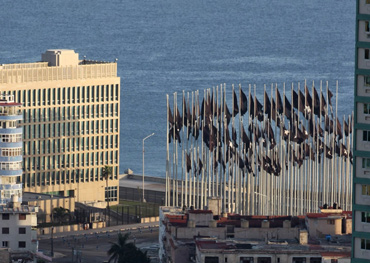 HAVANA TIMES – The State Department plans to spend $1,212,000 to send 75 to 100 Cuban teenagers to the United States in the summers of 2015 and 2016, "to develop leadership skills and learn about civic participation and community engagement."
The teenagers will remain in the U.S. for three to four weeks as part of the project, called "Summer Leadership Program for Cuban Youth."
Participants must be 16 to 18 years old. English proficiency is not required. The program will be conducted in Spanish.
The Cuban students will take part in "youth-appropriate leadership activities and workshops in a safe environment, interact with American youth and gain first-hand experience with community engagement."
Students will stay with American families for six to eight days during the program "to further introduce the students to American culture."
The State Department's Bureau of Western Hemisphere Affairs on May 29 announced that it is looking for a non-governmental organization or an educational institution to run the project. The application deadline is June 30.
According to the bureau's request for applications:
The program delivery should be primarily interactive activities, practical experiences, and other hands-on opportunities to learn about the fundamentals of a civil society, leadership skills, critical thinking, democratic principles and community service. The activities could include participation in clubs, camps, seminars, workshops, simulations and role-playing, teambuilding exercises, case studies, a volunteer service project, leadership training exercises, meetings, classroom visits, site visits, and social time among peers.
Other activities may include visits to historical sites, local, state and/or national government centers, community centers, non-governmental organizations, museums and landmarks that combine learning about the principles of government, history, and society with tourism.
Age-appropriate cultural enrichment activities that provide opportunities for participants to interact with each other and Americans may also be part of the program. Programming should include additional American participants wherever possible, accounting for a lack of English language proficiency from Cuban participants.
The program may also include a maximum three-day study tour to Washington, D.C.
The contractor hired to run the program will "play a primary role" in selecting students for the program. The U.S. Interests Section in Havana will help the contractor "in disseminating promotional materials and in student selection."
Participants will be chosen using "clearly identified criteria for the selection consistent with local law." I wonder how the selection could be "consistent with local law" since such a program would likely be regarded as illegal in Cuba.
The contractor will be required to obtain the approval of students' parent or guardian.
The State Department envisions 25 to 35 students taking part during the summer of 2015 and 50 to 65 during the summer of 2016.
Qualities that will enable students to be successful participants include "maturity, strong social skills, flexibility and open-mindedness."