Cuba's Alexander Guerrero Signs for $28 Million with Dodgers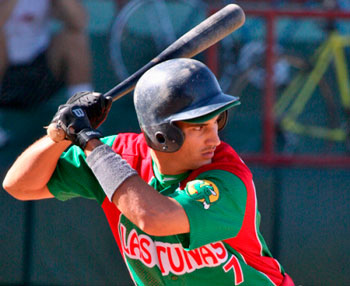 HAVANA TIMES — Former Las Tunas shortstop Alexander Guerrero has signed a $28 million dollar four-year contract with the Los Angeles Dodgers, reported ESPN. He will join the Cuban outfield sensation Yasiel Puig, who just concluded his first year of a $42 million contract with L.A.
The signing comes just days after slugger Jose Dariel Abreu signed a $68 million dollar contract with the Chicago White Sox.
Guerrero, 26, abandoned Cuba earlier this year after sitting out the 2012-2013 season discontent with his treatment by the island's baseball authorities, especially his not being included on the national team shortlist for last spring's World Baseball Classic III.
A parade of top-notch Cuban baseball players have been abandoning the island in recent years seeking Major League contracts. Others include Aroldis Chapman, the closer with the Cincinnati Reds, and Yoenis Cespedes, a starting outfielder with the Oakland As.
The Cuban government recently opened up the possibility for athletes to play in professional leagues abroad if they maintain their commitments to their national squads.
However in the case of baseball, the Major Leagues are off bounds since the half century US embargo on Cuba prohibits US teams to negotiate with Cuban players on the island or to pay them money if they maintain residence in Cuba.
The only way Cuban players can try their luck with MLB is by either deserting while playing in an international tournament or leaving the island clandestinely by speedboat.
Guerrero skipped out to neighboring Haiti where he established residence while awaiting the OK from US authorities to make the big jump to the United States. He has been training in the Dominican Republic.
In his last full season in the Cuban Baseball League (2011-2012), playing for his home town Las Tunas, Guerrero hit .290 with 21 home runs and had a .977 fielding percentage.