Cuba's Civil Defense Calls Hurricane Watch from Guantanamo to Matanzas
By Circles Robinson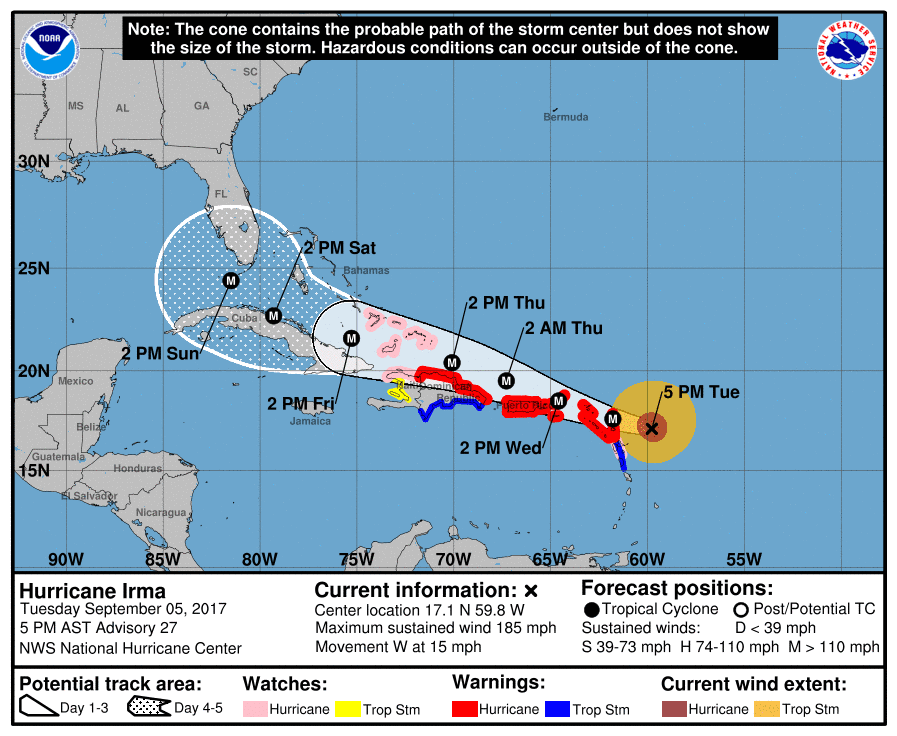 HAVANA TIMES – Taking into account the different tracks forecast for Hurricane Irma, Cuba's Civil Defense network kicked into action with their Hurricane Watch phase on Tuesday afternoon, reported Granma.cu.
All provinces from Guantanamo to Matanzas are on Hurricane Watch with only Mayabeque, Artemisa, Havana, Pinar del Rio and the Isle of Youth not included at this time.
A landing somewhere on the island is a possibility but not a certainty, as Irma could skirt the north coast of the island or veer further north. Such storms can be highly unpredictable and a slight tilt in its path can change the panorama considerably.
Florida has already declared a state of emergency to prepare for a probable passing of portions of that State.
Cuba has been very successful in preserving life during tropical storms and hurricanes, however the country's highly deteriorated housing stock has taken a beating over the years and repairs and new building have nowhere near been able to keep up with need.
According to the information provided by the National Hurricane Center, Irma is now a category 5 storm, the maximum on the Saffir-Simpson scale, with maximum sustained winds of 185 mph (295 km/h). The minimum pressure has dropped to 926 millibars.
The storm has grown considerably in scope. Hurricane-force winds now extend outward up to 60 miles (95 km) from the center and tropical-storm-force winds extend outward up to 175 miles (280 km), notes the National Hurricane Center.
The center of Irma is expected to pass over portions of the northern Leeward Islands late tonight or early Wednesday and then reach or pass near the Virgin Islands and Puerto Rico later on Wednesday. The results could be devastating.
Forecasts show Irma remaining a powerful Category 4 or 5 storm during the coming days as it moves through the Caribbean.
Hurricane warnings are in place for the Antigua, Barbuda, Anguilla, Montserrat, St. Kitts and Nevis, Saba, St. Eustatius and Sint Maarten, Saint Martin and Saint Barthelemy, both the British and US Virgin Islands, Puerto Rico, Vieques, Culebra and the north coasts of the Dominican Republic and Haiti.
Cuba joins Guadeloupe, portions of Haiti, Turks and Caicos and the southeastern Bahamas in the Hurricane Watch phase.
A Tropical Storm Warning is also in effect for Dominica and other portions of the Dominican Republic and Haiti.