Cuba's Dayron Robles Out for 2013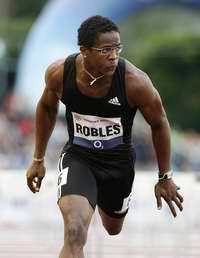 HAVANA TIMES — Santiago Antunez, the trainer of Cuba's Beijing Olympic gold medal hurdler Dayron Robles, said Saturday that the athlete will not compete in 2013 because he believes he has not received the assistance from his country's sports authorities that he expected after being injured last year, reports AP.
"Dayron is very upset. He doesn't see himself getting help, and it's not an economic issue or anything like that, but a human problem, we're talking about assistance as a person. Nobody (among the sports officials) talks to him, no one says anything, no one comes to visit him, they don't treat him like a person, like an athlete. But I don't want to say anything else," said Antunez in an interview with the Associated Press.
The hurdler injured his leg in the finals of the 110 meter hurdles in the 2012 London Games and stopped running after the sixth hurdle.