Cuba's Gov. Makes Big Changes
By Circles Robinson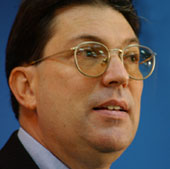 HAVANA TIMES, March 2 – President Raul Castro announced make major changes in the Cuban government on Monday after a year of evaluating his cabinet members.
Numerous top officials were removed from their key posts including Foreign Minister Felipe Perez Roque, Finance and Planning Minister Jorge Luis Rodriguez, and Carlos Lage Davila the Executive Secretary of the Council of Ministers..
Perez Roque was replaced as Cuba's top diplomatic post by the current First Vice Minister Bruno Rodriguez Parrilla.
Carlos Lage Davila was replaced as executive secretary of the Council of Ministers by the current head of the Revolutionary Armed Forces Secretariat, Brig. Gen. Jose Amado Ricardo Guerra.
Marino Murillo Jorge was designated to replace Jorge Luiz Rodriguez. Murillo had been the minister of Internal Commerce.
The changes also involve the restructuring of the government. Two important ministries, Foreign Commerce (MICE) and Foreign Investment and Economic Collaboration (MINVEC) were merged with the current MINVEC minister Rodrigo Malmierca Diaz picked for the post while Raul de la Nuez Ramirez loses his at MICE which ceases to exist.
Otto Rivero Torres is no longer a vice president of the Council of Ministers. The official note said the investment programs he headed up have been transferred to their respective institutions.
Likewise, Alfredo Morales Cartaya was replaced as the minister of Labor and Social Security by Margarita Marlene Gonzalez Fernandez, the current first vice minister.
Another merger came with the Ministries of the Food Industry and Fishing Industry with Maria del Carmen Concepcion Gonzalez being designated to head what will now be only the Ministry of the Food Industry. To assume her new role, Concepcion will no longer serve on the Secretariat of the Communist Party Central Committee.
Georgina Barreiro Fajardo was replaced as minister of Finance and Prices by Lina Pedraza Rodriguez, who like Concepcion, had served on the Cuban Communist Party Central Committee Secretariat.
Due to the mergers, other officials whose positions disappear are Alejandro Roca Iglesias and Alfredo Lopez Valdes, in their posts as ministers of the Food Industry and Fishing Industry.
In another shake up, Brig. Gen. Salvador Pardo Cruz takes over the Ministry of the Iron-Steel Industry replacing Fernando Acosta Santana.
Jose M. Miyar Barrueco was shuffled from his post as Secretary of the Council of State to take the post as minister of the Science, Technology and Environment Ministry. Representative Homero Acosta Alvarez was designated on an interim basis as secretary of the Council of State, pending ratification by the parliament.