Cuba's Leonys Martin Signs for 8-Figures with Texas
By Circles Robinson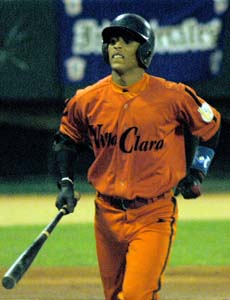 HAVANA TIMES, May 4 — Last year's American League Champs, The Texas Rangers, have just signed Cuban outfielder Leony's Martin to a $15.5 million contract.
Martin, 23, who played for Villa Clara in the Cuban League, is at the Rangers Surpirse, Arizona camp and could soon be playing Double-A ball at Frisco, Texas, reports ESPN on Wednesday.
His signing will not likely be reported in Cuba as all players who abandon the island for greener pastures become non-persons from then on.
Nonetheless, the local fans manage to keep up with the players in their US Major League Careers through illegal satellite antennas and word of mouth.
Martin played in the 2009 World Baseball Classic as a utility outfielder going 2-for-7.  In the Cuban league he came close to winning the batting title in the 2007-2008 season, finishing second after hitting a whopping .398 from his leadoff position in the Villa Clara batting order.
In the 2009-2010 season he hit .326 with 10 homers and 30 stolen bases.
In describing Martin after he had left for the US, Cuban baseball expert Peter C. Bjarkman stated in November 2010:
"A promising 22-year-old Villa Clara outfielder, a stellar bench player on the last couple front-line national teams. The southpaw swinger has been mainly a late-inning defensive specialist in international venues but did hit a hefty .326 in last winter's National Series for the league runner-up Orangemen.
"Martin apparently fled from the island late last month (October 2010) in the aftermath of the World University Championships, where he served as Cuba's starting centerfielder and batted .450 (6 games) with a tournament-best 4 stolen bases."
Bjarkman noted that his presence on Team Cuba would not be of major concern, with outfielders like Yoennis Céspedes, Alexei Bell, Alfredo Despaigne and Frederich Cepeda battling for the starting positions.
Aroldis Chapman, the tall left-handed pitcher from Holguin, signed a $30 million contract with the Cincinnati Reds before the 2010 season.  He is now a member of the big league squad being used as a late inning reliever.