Cuba's Pedro Luis Lazo Gets Belated Chance at Professional Baseball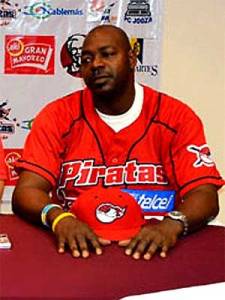 Circles Robinson
HAVANA TIMES — Pedro Luis Lazo, the towering right hander who pitched 20 seasons with Pinar del Rio in the Cuban Baseball League, has come out of a 14-month retirement and will pitch for the Pirates of Campeche in the Mexican League (Triple A Level).
Lazo said the agreement to allow him to earn a salary for pitching in Mexico was approved by the Cuban government, which will get an undisclosed portion of the pitcher's pay, reported Ray Otero from Baseballdecuba.com.
Back in 2002, Lazo and Jose Contreras were the top two pitchers for Pinar del Rio of the Cuban League. Then Contreras decided to defect "becoming a traitor in the eyes of the Cuban government".
The now 40-year-old Contreras, one more than Lazo, began pitching in the US Major Leagues in 2003 and has earned over $65 million dollars while playing for the New York Yankees, Chicago White Sox, Colorado Rockies and most recently with the Philadelphia Phillies, where he is still pitching.
Lazo rejected all offers and continued to pitch for Pinar at home and for the Cuban national team during international events.
Cuban sports authorities do not allow any player that has gone professional to represent their country in those competitions. The names of the players that leave are never mentioned again in any Cuban media.
Nonetheless, some retired players have been given permission to work as trainers in Japan, Italy, Mexico, Nicaragua and other baseball playing countries. They must also share their pay with the Cuban government.
The amount Lazo will receive for pitching with the Campeche Pirates was not disclosed.
Lazo is the all-time record holder for games won in the Cuban League with 257.  He also has 23 victories in international competitions. He pitched on four Cuban Olympic teams that won gold medals in 1996 and 2004 and silver in 2000 and 2008.
Before signing the undisclosed contract, Lazo was sent to get back in form in the Mexican Liga del Norte, where he worked 41 innings and compiled a 4-0 record with 56 strikeouts. His fastball still records 93 MPH.
Regarding the chance to play in the Mexican League Lazo was quoted as saying: "I feel happy, like any amateur athlete that's given the opportunity to play on a professional team… and thank the Cuban government for giving me permission. I will do my job for the Campeche Pirates, whose fans have a lot of expectations about seeing me pitch."