Cuba's State Telephone Monopoly Denies Home ADSL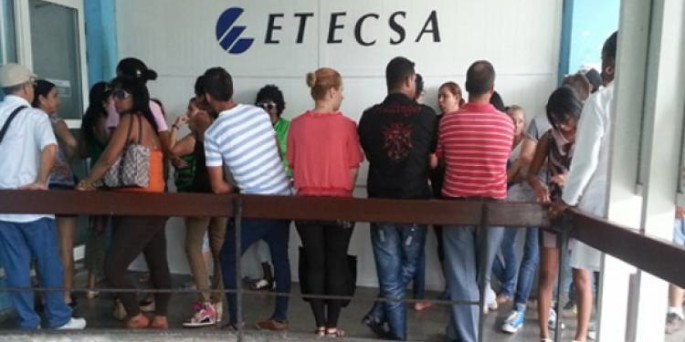 HAVANA TIMES — Cuba's telecommunications company hastened this week to plug a leak that said that the state-run company, ETECSA (Empresa de Telecomunicaciones de Cuba, S.A.), would "offer broad-band Internet access packages to Cuban homes through ADSL technology and at varying connection speeds."
ADSL (asymmetric digital subscriber line) is a technology for data transmission over telephone lines.
Cubans are not allowed to contract home internet service and ETECSA  was quick to make clear that is not on the horizon.
The leak was published on June 23 in the blog "La chiringa de Cuba". Its author, Carlos Alberto Pérez, wrote that he obtained a document with that information from an anonymous source at ETECSA.
The connection speeds would be guaranteed on a "best-effort basis," Pérez wrote, meaning that users would get "different bandwidths and response times depending on the volume of traffic on the Web."
The hypothetical cost of each package would depend on the hours per month that a user might spend surfing the net. The rates ranged from 20 hours ($3 for domestic navigation; $10 for international navigation) to 220 hours ($25 domestic; $60 international.)
ETECSA on Thursday reacted to the unauthorized disclosure of the document with a statement that decried the "unscrupulous manner" in which it had been leaked and published.
The following is the ETECSA statement translated by Progreso Weekly:
"On June 23, an article was published on the Internet that disclosed alleged information about the introduction of Internet service at home, which has been replicated by several digital media.
"The content of that article, obtained from a source not authorized by ETECSA, was based on a document utilized to deliver a course to company specialists. [The document] contained technical information with hypothetical data made up for likely scenarios regarding the target market and stages of implementation.
"[The document] makes reference to a likely list of prices for home Internet, which is not real because it distorts the prices applied since 2014 for switched-access services.
"As already reported, ETECSA is developing a set of investments that will contribute to the process of information for [Cuban] society, wherein the development of the infrastructure of telecommunications is an essential axis that includes the creation of capabilities to gradually increase the paths of access to the Internet.
"While these investments proceed, priority has been given to the collective public areas, which by now number more than 500. To these will be added 35 WiFi-access zones that were announced on June 18 through the various media.
"We regret that someone, in an unscrupulous manner, manipulates our company's internal information to disinform the population, since, as we have often repeated, this company will inform in a timely manner whenever the conditions are created for the opening of new services, providing all the details related to the supply and means of utilization of same."