Daniel Ortega: Our Police "Are More Aware, Dignified and Supportive"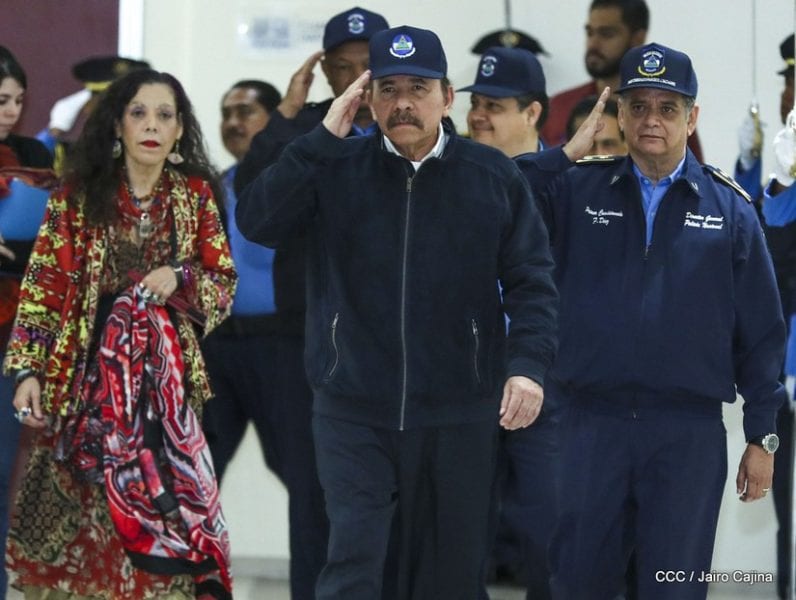 "We never attacked anyone," says Police Chief Francisco Diaz
"They have fulfilled their duty with the people, their families and with the homeland under the direction of Commissioner General Francisco Diaz," said Ortega
HAVANA TIMES – Speaking to a graduation this week of new police cadets, commander Daniel Ortega affirmed that Nicaragua now has a National Police that is, "more aware, more dignified and more supportive."
The president poured compliments on the institution, founded in 1979 and now headed by the father-in-law of his son, Commissioner General Francisco Diaz, in the midst of the country's socio-political crisis, in which the Police has acted as the repressive arm, with a balance of 325 confirmed deaths and more than 600 political prisoners.
National and international human rights organizations have questioned the police work and have demanded that the repression and use of paramilitary forces ceases. The latter, in conjunction with the Police, imposed terror and death during the bloody Clean-up Operation in the second of four phases of repression by the dictatorship, after the civic protests that broke out in April.
"They fulfilled their duty with the people, with their families and with the homeland under the leadership of Chief Francisco Diaz and the entire National Police Leadership," said Ortega.
For his part, the police chief said in his speech that during this year 24 officers have died, 22 of them "in the attempt at a coup d'état," as the Executive refers to the anti-governmental demonstrations that began in April.
He claimed that the officers were attacked on the streets and in their police units during the protests and that "we never attacked anyone," but made the legitimate use of defense "to protect life and physical integrity."
Diaz announced that they continue investigating and looking for "the coup-seeking criminals to answer for the crimes committed" and that "they could not and will not" overthrow the Ortega Government.
The XXI cadet promotion, which graduated 24 new officers, was dedicated to the Spanish Sandinista priest Gaspar Garcia Laviana, who was killed 40 years ago by Somoza's guard.