Death Toll Hits 21 in Bogota, Colombia Car Bombing
By Sinikka Tarvainen, dpa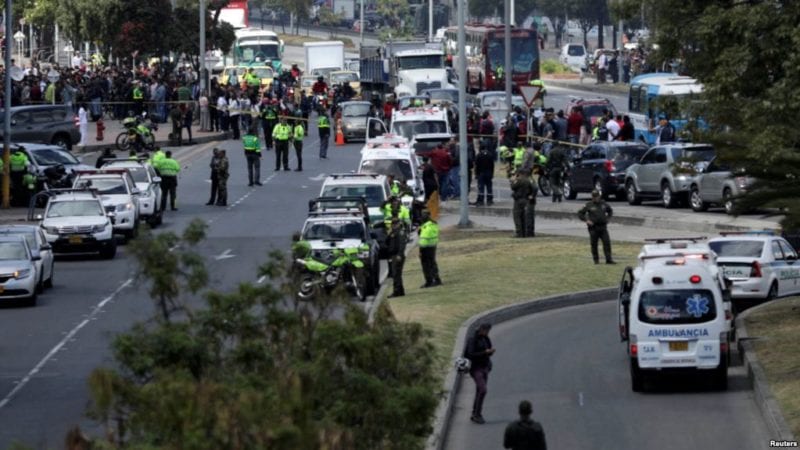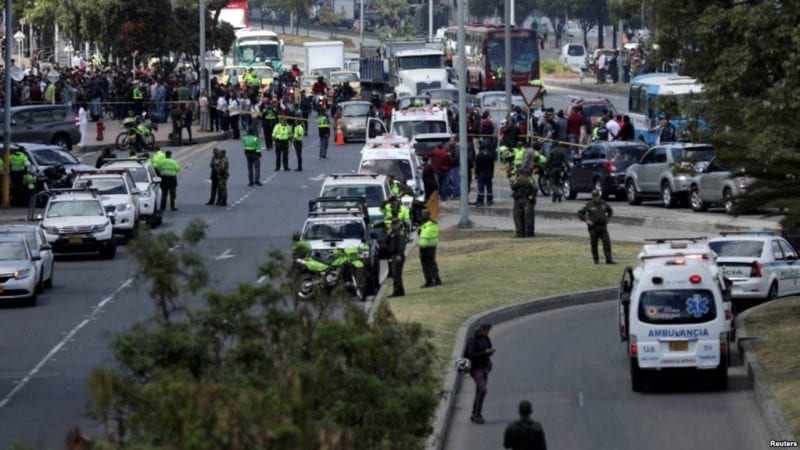 HAVANA TIMES – The death toll rose to 21 following a car bombing at a police academy in Colombia on Thursday, local media reported, as the country's President Ivan Duque pledged to step up border controls and security on access roads to cities.
A total of 68 people were also injured in the attack, according to El Tiempo newspaper, citing information from police.
The attack "against our youth, our freedom" will not go unpunished, Duque vowed in a televised address, announcing three days of mourning.
The driver of the van loaded with explosives has been identified as a 57-year-old who is suspected of having links with the leftist guerrilla group National Liberation Army (ELN).
"We shall not rest until the rest of the terrorists involved have been brought to justice," Duque said, promising that more information would be released Friday.
The terrorists planned the attack three months in advance and timed it to coincide with a ceremony for cadets at the General Santander police academy in the south of the capital Bogota, broadcaster Caracol reported.
Attorney General Nestor Humberto Martinez identified the bomber as Jose Aldemar Rojas Rodriguez.
He had a terminal illness and was paid by terrorists to carry out the attack, Caracol quoted intelligence sources as saying.
Rojas is believed to have been a former member of ELN, the broadcaster added.
Duque suspended his predecessor Juan Manuel Santos' peace talks with the group after taking office in August 2018.
Martinez said Rojas was driving a van loaded with 80 kilos of the powerful explosive pentolite.
A sniffer dog detected explosives when the van was entering the academy premises, after which the driver forced entry into the area and hit three soldiers who tried to stop him, according to media reports. The vehicle then blew up.
The attacker was reportedly killed in the explosion.
The injured victims, who television reports earlier numbered at 87, included an Ecuadorian and two Panamanians, the Foreign Ministry said in a statement.
Ecuador, Panama, Argentina, Venezuela and the United States were among the countries to condemn the attack.
"Our condolences and sympathies go to the victims and family members of those killed. We stand in solidarity with our friends and partners, the people and police of Colombia," tweeted Kimberly Breier, the US assistant secretary of state for Western Hemisphere affairs.
The attack was the deadliest in a series of attacks in the South American country in recent years.
An attack against a police station left five people dead in Barranquilla in the north last year. But Bogota had not seen a major bombing against a police or military installation for more than a decade.
ELN, which has an estimated 1,500 fighters, is Colombia's last officially existing guerrilla group after Santos signed a peace deal with the much bigger FARC in 2016.
ELN has carried out major attacks in the past, though in recent times it has only staged smaller ones against the country's oil and road infrastructure, as well as kidnappings.
On January 11, ELN downed a helicopter and abducted its three crew members, peace commissioner Miguel Ceballos was quoted by Caracol as saying Thursday.
Duque has refused talks with the group unless it unilaterally stops attacks and kidnappings. ELN has insisted on the need to negotiate and accused the government of not wanting peace.
Now a political party, FARC condemned Thursday's attack.
Its statement called on the government not to give in to "war-like hysteria and militarist solutions" and advocated "peace through dialogue."
FARC representative Pastor Alape Lascarro called the attack "a provocation against the political solution to the conflict."
"It tries to close possibilities of an agreement with ELN, delegitimize social mobilization and favour war-like sectors," he tweeted.
Armed conflicts in Colombia have left more than 260,000 people dead since 1958, according to the governmental National Centre for Historical Memory.
About 7 million people have been displaced.