Diaz Homer Puts Ciego on the Ropes
By Circles Robinson
HAVANA TIMES, May 22 — During the first half of Cuba's 2008-9 baseball season Villa Clara was clearly the top team in the Eastern Division; however in the second half they turned less than mediocre while Ciego de Avila was red hot. Now, in the playoffs, the tables have turned and the Orangemen have the Tigers on the ropes with a 3-0 lead in their best-of-seven series.
On Thursday, Ciego de Avila had a 3-0 lead in the fourth and had knocked out Villa Clara starter Freddy A. Alvarez. Then Villa Clara began chipping away at the lead with one in the fourth and two in the fifth on three hits and a walk. With the score tied, Aledmis Diaz (ss), 0-for-4 in the game, stepped into the batters box and hit a solo homer in the bottom of the ninth to give the Orangemen a 4-3 walk-off win.
As in game two on Tuesday, Ciego de Avila's star closer Vladimir Garcia was used for 3-plus innings and despite pitching well with his 95-99 MPH fastball, —two hits, one run, six strikeouts and two walks—he once again gave up the winning run.
Yosvani Perez completely shut down Ciego from the fourth inning on. He went 5.1 innings of relief allowing only two hits. He didn't give up a walk and struck out four to get the win.
Pinar del Rio Beats Pedroso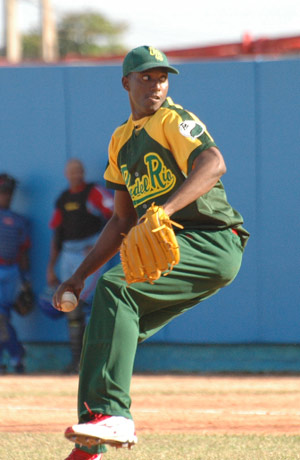 Habana started the league's top ERA man Yadier Pedroso on Thursday in the third game of its Western Division championship series with Pinar del Rio. But it wasn't Pedroso's night and he left after 3.2 innings allowing six runs, five earned on six hits and a walk.
Meanwhile Pinar's Vladimir Baños manager one of his best games of the year, going the route and holding Habana to seven hits and one run while striking out seven.
Pinar ended with 11 hits and had big innings in the third and fourth scoring three runs in each. There were five extra base hits in the game and all were from the Pinar lineup: doubles by Jorge Padron, David Castillo, William Otaño, and Donal Duarte, who also homered.
Pinar del Rio plays again at home (5:00 p.m.) Friday against Habana with two top pitchers set to throw: Yunieski Maya vs. Yulieski Gonzalez. In the East, Villa Clara will attempt to wrap up its series against Ciego de Avila at home at 8:00 p.m.