Ecuador: Correa to Testify in Favor of Glas in Corruption Case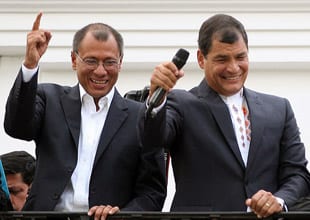 HAVANA TIMES – Former Ecuadorian President Rafael Correa returned to Quito from his home in Belgium last weekend. On Tuesday he expressed his willingness to testify in favor of imprisoned Vice President Jorge Glas in the trial over illicit association following alleged bribes by the Brazilian company, Odebrecht, reported dpa news.
"Of course, I will always defend truth and justice," said the former president on Twitter, upon learning that Glas's defense lawyer, Eduardo Franco, will request his presence on the stand.
Franco said the initiative came after one of the witnesses, former legal secretary of the Correa Presidency Alexis Mera, repeatedly mentioned the name of Correa when giving his version before the Court of Justice (CNJ).
The attorney confirmed that he spoke "by phone with former President Rafael Correa" to verify if he was willing to testify.
In the preparatory stage of the trial, former legislator Cesar Montufar, who is a private accuser in the process, already requested the presence of the former president, but his request was denied by the court that handled the case.
At that time, the judge "already decided to exclude testimonies that are not conducive or relevant to the theory of the prosecution and defense case," said prosecutor Carlos Baca in commenting on this petition.
Correa is currently in Ecuador, carrying out activities linked to the governing Alianza País (AP) Movement and will remain until December 4th.
Vice President Jorge Glas, in jail since October 2, faces with eight other defendants a trial for alleged illicit association to receive bribes from the Brazilian construction company Odebrecht, in exchange for the award of public works contracts.
According to the testimony of the Brazilian company, Glas received 14.1 million dollars with the intermediation of his uncle Ricardo Rivera, another of the defendants.
The current president, Lenin Moreno, also from Alianza Pais, relieved Glas of his vice presidential duties while the trial takes place that will determine his guilt or innocence. Moreno is conducting a crusade against corruption in Ecuador.