Emily Dissipates Before Reaching Cuba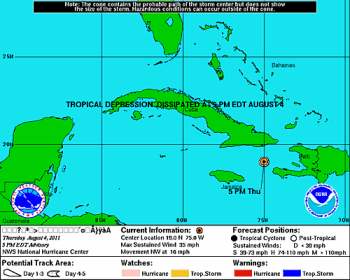 HAVANA TIMES, August 4 — Tropical Storm Emily is no longer and thus won't be reaching Cuba, reports the National Hurricane Center in Miami at 5:00 p.m. EDT (Cuba time).
According to Cuba's Weather Service (INSMET), the interaction with the high mountains separating Haiti and the Dominican Republic debilitated the storm before it reached Cuba.
INSMET said the eastern Cuban provinces should still be on watch for the evolution of the rains associated with the dissipated storm.
According to haitilibre.com heavy rains were still falling on the island of Hispaniola, shared by Haiti and the Dominican Republic.