Erotic Art Festival in Alamar
Regina Cano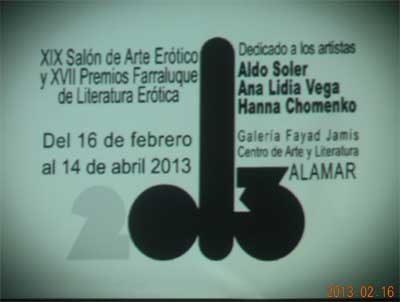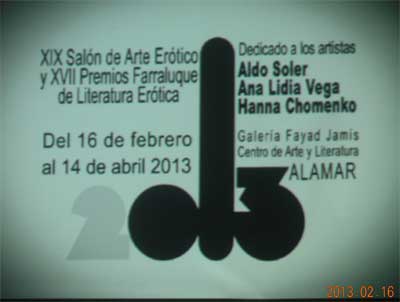 HAVANA TIMES – With dances and folk music of Obiní Batá activities were initiated prior to the opening of 19th Erotic Art Exhibition in the Fayad Jamis Gallery of Alamar, Havana on Saturday February 16th. This show awards, in addition to the visual arts, fiction and poetry on the subject.
The evening began with a recognition of the work of artists Aldo Soler and Chomenko Hanna and the artist and writer Ana Lydia Vega Serova, for their contribution to culture.
The awards were:
1 – For Fine Arts: First Prize "Orgia 1" (installation) of Noel Morera Cross, Second Prize "Retozo Personal" (instalation) by Enma Pallí and Third Prize went to "Orgia" (photography) by Tey Mabel Alvarez.
First Mention "Nothing will disturb my peace" (Photography) to Yuri Obregón Second Mention and "S/T" (Photography) by Jaime A. Prendes.
Gallery Prize and from the Provincial Department of Art and Design went to "Honeycomb" by authors Yailyn Amarilys González Hernández and González Delgado.
2 – For the Farraluque Contest for Short Stories: First Prize "That kind of sick person" by Eduardo Corzo Mesa, Second Prize "La Maja" by Trujillo Ulises Ponce and Third Prize "Laquêus" by Elaine Vilar Madruga.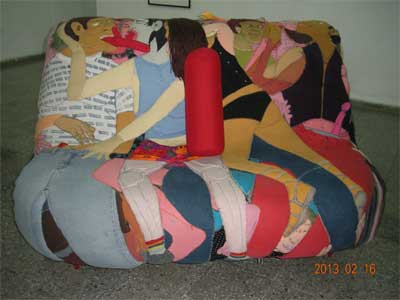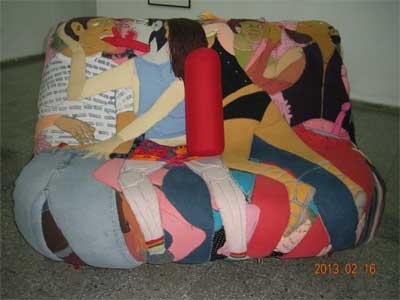 Mention: "One's wife" by Alberto Menendez Enriquez, "Consanguinity" by Mazorra Daniel Sola, "Passionate" by Teresa R. Medina, "The Meeting" by Niurka Yamila O'Farril.
3 – In Poetry: First Prize "Anagnorisis III" by Elaine Vilar Madruga and Mention to "Taurus Maquia" by Magaly F. Moreno Arceo.
The jury for the Visual Arts included: Jorge Braulio Rodriguez, Jose Villa Soberon and Mady Letamendi.
For the Farraluque for Erotic Literature in short stories: Dulce Maria Sotolongo Carrington, M. Juliana Venero and Ihoeldis Rodriguez. And in poetry: Sinecio Verdecia, Alberto Hernánde and Adriana Zamora.
Also the Provincial Department of Culture for its Prevention Group: STD, HIV-AIDS, awarded prizes in both contests.
With a public of nearly 200 people, the Hall was opened for the enjoyment of all those who want to visit it during the next two months.

Click on the thumbnails below to view all the photos in this gallery. On your PC or laptop, you can use the directional arrows on the keyboard to move within the gallery. On cell phones use the keys on the screen.