EU Advocates Building Bridges with Cuba
EU Foreign Policy Chief, Federica Mogherini, appeals for dialogue and cooperation so as to put the first bilateral agreement between Cuba and the EU into action.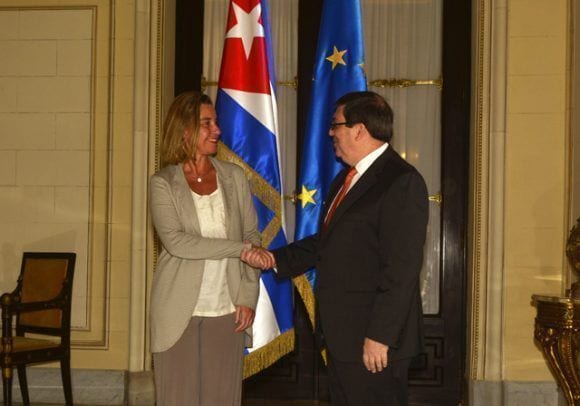 HAVANA TIMES – Amidst new tensions in US-Cuban relations, yesterday, the EU's Foreign Policy chief, Federica Mogherini, advocated for "building bridges and opening doors" between the island and the European bloc via dialogue and cooperation efforts to put the first bilateral agreement, which came into force last November, into practice, reports Efe news agency.
"Unlike those who raise walls and close doors, we Europeans want to build bridges and open doors through cooperation and dialogue," Mogherini stated on her trip to Cuba, referring to the turn US politics took towards the island initiated by US president Donald Trump, who the Cuban government is accusing of rekindling the hostilities that existed during the Cold War.
The Italian diplomat, who gave a conference called "The EU and Latin America" to university students and diplomats at the San Geronimo College in Havana, also deplored the embargo the US has imposed on Cuba since 1962, an "obsolete and illegal" policy which only "worsens the quality of life" of ordinary Cubans.
"We also reject US actions against Cuban citizens, businesses and interests. We can't accept unilateral measures that are stopping economic and trade relations with Cuba," Mogherini pointed out with regard to the latest set of sanctions approved by Washington last November, which ban business deals with companies linked to Cuba's military as well as new travel restrictions.
The EU High Representative for Foreign Affairs and Security Policy is visiting Cuba again in order to draw out, alongside Cuban authorities, a plan on how to implement the EU-Cuba Political Dialogue and Cooperation Agreement which both parties signed in Brussels in December 2016.
The agreement was provisionally put into effect on November 1st last year, but its definite implementation needs to be ratified in the European Parliament by its 28 member states.
This first bilateral agreement, "based on mutual respect", is an "opportunity to strengthen our relations to a level that reflects strong historic, economic and cultural ties that unite Europe and Cuba," the diplomat stressed.
"The Political Dialogue and Cooperation Agreement can be a solid tool to support Cuba's process of economic and social modernization even further (…) and to open the door to new opportunities to increase our trade and investments as well as to seek common solutions to global challenges," she underlined.
According to Mogherini, this agreement will also "foster a dialogue about human rights", an issue which both parties have discussed at different bilateral meetings ever since 2015.
"Even though there are some differences in our respective visions, our willingness to have a dialogue and mutually respect one another is always there," she pointed out.
Today, on the last day of her trip, Mogherini met with Cuba's National Assembly president, Esteban Lazo, and with Cuban Foreign Minister Bruno Rodriguez, with whom she talked about how to put this bilateral agreement into action, as well as to set up the first Cuba-EU Council which will take place very soon in Brussels.
Before ending her trip, she will give a press conference and may meet with Cuban president Raul Castro, whom she met up with in March 2016, although such a meeting doesn't appear on her official agenda.
After nearly two years of negotiations, which kicked off in April 2014, Federica Mogherini and Bruno Rodriguez signed the definitive agreement in Brussels in 2016, after the EU Council gave the agreement, which both parties had signed in Havana in March that same year, the green light.
As a result, Cuba is no longer the only Latin American country without a framework of this kind to regulate its relations with the EU bloc.
This agreement also meant it was the end of the EU's "Common Position" on Cuba, the unilateral restrictive policy that the EU imposed on the island since 1996 which was linked to establishing a dialogue to make advances in the fields of human rights and greater democracy.