Euro VP's Condolences to Paya's Widow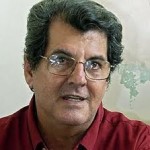 HAVANA TIMES — European Parliament Vice President Alejo Vidal-Quadras, of the governing conservative Spanish Popular Party (Partido Popular), on Monday sent a letter of condolence to Ofelia Acevedo, the widow of the recently deceased Cuban dissident Oswaldo Paya, reported Europa Press.
In the letter, released by the Cuban Christian Liberation Movement, Vidal-Quadras expressed his "sincere condolences" and offered to "collaborate in the huge task" with those Cubans who are "still moving ahead."
The European leader wrote that in the "difficult transition" awaiting Cuba, "the wisdom, fairness, prestige and charisma of Oswaldo had been a crucial element."
The Cuban dissident died in a car accident on July 22 when the car in which he was riding — driven by Popular Party youth leader Angel Carromero — ran off the road.
Carromero is being held in Cuba and may face charges for homicide.