Fernando of the Cuban Five New President of ICAP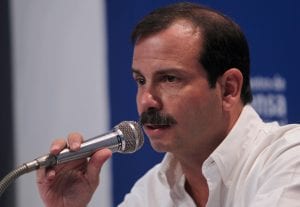 HAVANA TIMES – All the five spies of the Wasp Network considered heroes have until now held positions of vice presidents in state institutions and agencies, but this Tuesday Fernando González Llort ascended to the presidency of the Cuban Institute of Friendship with the Peoples (ICAP).
Gonzalez Llort, 53, replaced Kenia Serrano Puig, who was released from her responsibility at the head of that institution after eight years, said a statement read Tuesday night on the government's National TV News. The note appears reproduced on Wednesday in the official press.
Fernando is a graduate in International Political Relations from the Higher Institute of International Relations of the Ministry of Foreign Affairs in 1987.
MININT Officer
The Ministry of Interior (MININT) official served as vice president of ICAP since June 2014.
ICAP is considered an important arm of the MININT for its work with foreign visitors who travel in solidarity to the island.
Gonzalez was arrested in Miami in 1998 and served over 15 years in US prisons before being released on February 27, 2014.
The rest of the agents previously known in solidarity circles as the Cuban Five have the following positions:
Gerardo Hernandez, intelligence officer and former head of the Wasp Network, graduated in International Relations and is a vice-rector of the Raul Roa Higher Institute of International Relations in Havana.
Ramon Labañino, an intelligence officer and a graduate in Economics, is vice-president of the National Association of Economists and Accountants of Cuba (ANEC).
Rene Gonzalez, agent of the Wasp Network and pilot by profession, is a vice-president of the Jose Marti Cultural Society. Gonzalez had previously stated that he wanted to pursue an agricultural project when he was released from prison, but apparently his plans changed.
Antonio Guerrero, agent of the Wasp Network and engineer in aerodrome construction, is a vice president of the Superior Organization of Business Management (OSDE) of Design and Construction Engineering.