Fiber Optics Arrive to Cuba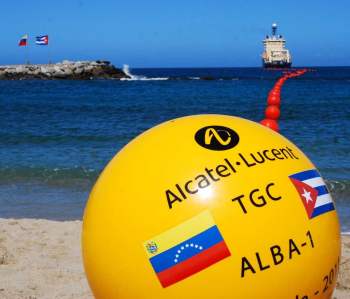 HAVANA TIMES, Feb. 8 — The fiber optic cable that will link Cuba with Venezuela has just arrived in the eastern province of Santiago de Cuba, a Deputy Minister of Informatics and Telecommunications Ramon Linares said in Havana on Tuesday, reported Xinhua.
The official said the cable installation will conclude on Wednesday after completing the process of laying it on the ocean floor which began on January 22.  It is expected to go on line by July.
Cuba is now five months away from considerably faster telecommunications and Internet capability, touted to be 3,000 times greater than present, says the Cuban government.
The 1,000 mile plus cable was laid by the French company, Alcatel-Lucent.
It is still unclear what the greater capability will mean for ordinary Cubans who would like to have Internet service.  That decision and the cost for service will be determined at a later date by the Cuban government.  Presently only a select number of Cubans are able to surf the web.