Fidel and Raul Castro Meet in Havana with Japan's Shinzo Abe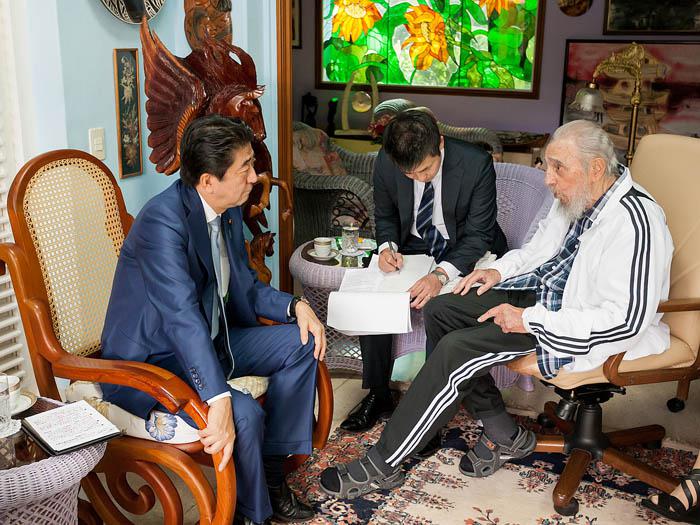 HAVANA TIMES – The Prime Minister of Japan, Shinzo Abe, met separately on Thursday with Cuban President Raul Castro and his brother and former president Fidel Castro on a visit to the island to revive bilateral ties, reported dpa news.
Abe was received with military honors at the Palace of the Revolution in Havana and later held a closed-door meeting with the Cuban president, according to state television images.
The two leaders also witnessed the signing of an agreement that formalized the delivery of a donation from the Japanese government of medical equipment for the main Cuban hospitals.
The meeting with Fidel Castro took place at a time on Thursday without specifying the private residence of former Cuban president, who received him with his usual sportswear.
The meeting was considered a "frank dialogue" in which the two discussed "the dangers affecting the world," according to a typical official note without any details.
Shinzo Abe and Fidel Castro stressed the need to "work for the preservation of peace," said Cuban television, which showed pictures of the meeting.
Before his arrival in Cuba, Abe gave an interview to the official newspaper "Granma" in which he said he hoped his visit "will become an opportunity to open a new page in the relations of friendship between the two nations."
Earlier this week, the governments of Cuba and Japan announced an agreement for the restructuring of Cuban debt under which Tokyo pardoned 65 percent of the debt of 1.781 billion dollars.
Under the agreement, Havana must pay 606 million dollars, of which 249 million will be allocated to a fund for Japanese companies on the island.
Nearing the end of his 24-hour visit on Friday Abe held a press conference at the Hotel Nacional were he said: "Japan is going to contribute to the development of Cuba both in the public and private sectors.  Abe's visit was the first ever by a Japanese head of government to Cuba.