Fidel Castro Attends His 90th Birthday Gala
By Guillermo Nova (DPA)
HAVANA TIMES — Former Cuban president Fidel Castro made a public appearance on Saturday, after four months in the shadows, to attend a cultural gala to celebrate his 90th birthday in Havana.
Dressed in a white sports jacket and surrounded by Cuban president, Raul Castro, and his Venezuelan equivalent, Nicolas Maduro, Fidel watched a musical show put on by the children's company "La Colmenita" at the Karl Marx Theater.
On entering the theater, he was welcomed with a standing ovation by over 5000 people cheering him on with shouts of "Fidel, Fidel" and frenzied applause.
The performance lasted an hour and was primarily made up of songs and poems as well as special performances including singer Omara Portuondo, from the legendary Buena Vista Social Club.
The event ended when children sang Happy Birthday to Fidel Castro, who watched them while he remained standing with the help of two bodyguards.
The last time the former leader made a public appearance was on April 19th during the closing ceremony of the 7th Cuban Communist Party Congress.
"We all have our time to go," Castro said reflectingly on that occasion. "Maybe this is one of the last times I speak in this room," he predicted before the 1000 loyal representatives that took part in the Communist Party gathering.
The former president also published an article on the front page of all Cuban media calling for the Cuban people to "maintain the peace" and reminded them of their historical dispute with the United States.
He also criticized the speech delivered by US President Barack Obama when he visited Japan," last May.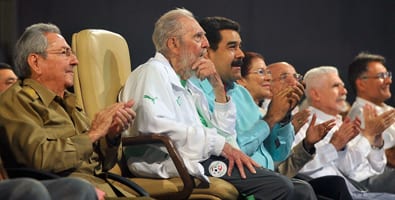 "He didn't have the words to apologize for the deaths of hundreds of thousands of people in Hiroshima, even though he knew what the effects of this bomb were," claimed Fidel in his article.
Over the last few days, the government has organized and sponsored hundreds of activities and events across the entire country to celebrate the 90th birthday of this Cuban politician.
These included gala cultural events, the inauguration of social housing projects, book readings of historic moments from his life, among other activities.
"The cigar is now 90 meters long, to commemorate our Comandante's 90 years of life," said proudly Jose Castelar "Cueto", a Cuban tobacco roller who managed to set the Guinness world record for having created the largest cigar in the world, in honor of the Cuban leader's 90th birthday.
Amongst other tributes made for Fidel Castro's birthday, the website www.fidelcastro.cu was also launched where his speeches and public interventions are available in many languages.
Stepping down from power in 2006 after a dangerous surgical intervention, Cubans have slowly become used to the fact that the figure of Fidel Castro is no longer on the front line.
"Fidel put Cuba on the map, without him and the Revolution we would have just been another small island amongst other islands," former Cuban Five member Gerardo Hernandez told Cuban TV. Hernandez, one of the Cuban spies who was imprisoned in the US in 1998, was released on December 17th 2014, after the historic announcement of reestablishing diplomatic relations between the USA and Cuba.
For the younger generations, Fidel Castro is a part of their country's history, even though some of them are somewhat distanced from it. "Nobody doubts he was the number one guy, but these are different times," a young Yandiel, who preferred not to disclose his surname, told DPA.
On the other hand, Daylis Mendez, a retiree who was selling the special supplements that the Cuban press published Saturday for Fidel's birthday told us "that there will never be anybody like him, there's a reason why we call him El Caballo," (The Horse) reminding us of the nick-name many on the island used to know him by.
The government newspaper "Granma" sold a special supplement today for a modest price where historic photographs and articles talking about important moments in Fidel Castro's life were published.
"In Russia, you have a lot of respect as a renowned leader who dedicated his entire life to the Cuban people," Russian president, Vladimir Putin, wrote in a telegram.
Other leaders such as China's Xi Jinping, Nicaragua's Daniel Ortega and Bolivia's Evo Morales, also sent birthday greetings to Fidel Castro for his 90th birthday.