Fidel Castro Backs Brother Raul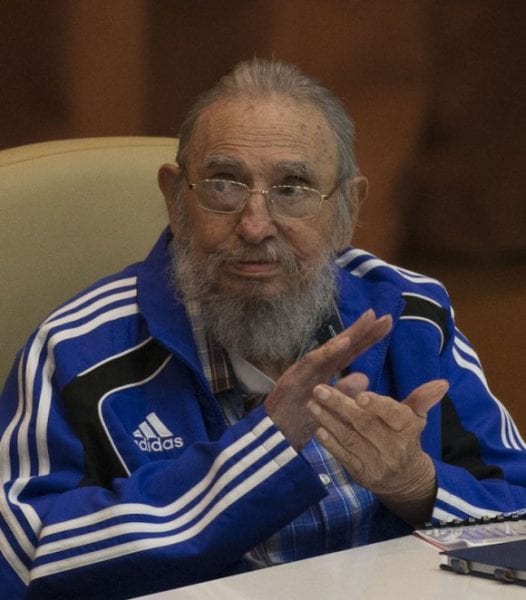 HAVANA TIMES — Former Cuban President Fidel Castro returned today to the main political stage of the island, almost a decade after an intestinal disease took him away from power, reported dpa news.
Castro, 89, appeared on Tuesday morning before the plenary session of the 7th Congress of the Communist Party of Cuba (PCC). He pronounced a statement that also sounded like a farewell to the Congress.
"Soon I should turn 90," said the former president, who was greeted with standing ovations and cheers of "Fidel, Fidel" by the more than 1,000 delegates and guests who attended the closed meeting.
Fidel said,  "Our turn will come to all of us," and added, "Perhaps this will be of the last times I will speak in this hall," he predicted. Television images showed some delegates near tears at the Havana Convention Center.
Fidel Castro read his brief speech in a tired but firm voice, next to his brother, the current President Raul Castro. The former leader, who turns 90 on Aug. 13, has lived for years retired from public spotlight but has continued to exercise his influence.
Fidel expressed his support for his brother's government's policy, without going into further details. "I congratulate you all and firstly Raul Castro for his magnificent effort," he said.
The younger Castro pushes for a market opening to foreign capital on the island, after decades of state monopoly. He also initiated in December 2014 a historic rapprochement with the United States, once a fierce ideological enemy of the government of his brother.
Fidel Castro spent part of his speech to recall his youth and his discovery of the former Soviet Union, whose political model he claimed to have had "total confidence". He also openly praised the system built under his leadership after the 1959 revolution in Cuba.
"The ideas of the Cuban communists will remain," he predicted. Although not involved for years actively in Cuban political life, the former president said he voted for "all candidates" of the more than 100 members of the new Central Committee and 17 members of the Politburo presented today.
Raul Castro, 84, was confirmed today as first secretary at the head of the Party for another five years as was Jose Ramon Machado Ventura, 85, another historic fighter of the Cuban Revolution, as deputy chief of the only political party allowed in Cuba.  The PCC has a membership of around 10% of the total Cuban population.