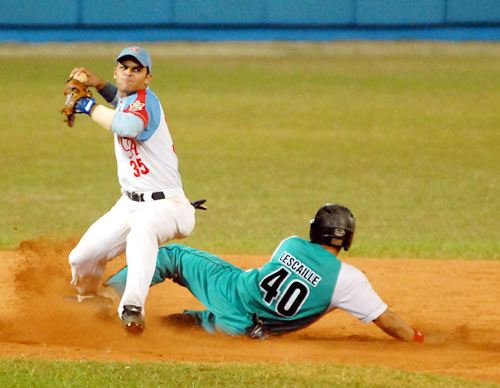 HAVANA TIMES, Sept. 13 — Cuba's national baseball team continues its preparations for the 2010 Pan-American Baseball Tournament to take place in Puerto Rico on October 1-12.  The short list had its first cut on Sunday and 33 players remain training for the 24 available slots.
The six players that didn't make the cut were: Las Tunas shortstop Alexander Guerrero, Ciego de Avila lefthander Maikel Folch, Sancti Spiritus first baseman Yunier Mendoza, Camaguey catcher Yenier Bello, Matanzas outfielder Ariel Sanchez and righthanded relief pitcher Miguel Lahera from the Havana Province team.
The Cuban team will play exhibition games with the Nicaraguan team on September 22, 23 and 24 in San Jose de las Lajas, the stadium of the Havana Province team as well as on the Sept. 25-26 at the Latinoamericano Stadium in the capital.
The baseball authorities stated that the final cut will take place after those games.