Five Day Cuban Trova (Folk) Revival
By Maya Quiroga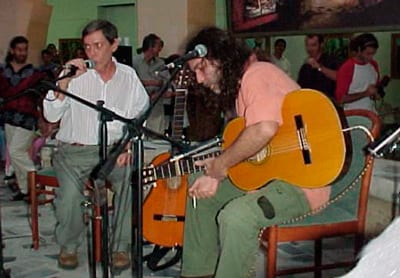 HAVANA TIMES — The El Sauce Cultural Center is one of Havana's most special venues. Located on 9th street between 120 and 130 streets, in Playa, due to its proximity to the Higher Arts University – the finest example of Modernist architecture on the island-, El Sauce has acquired a very unique flair.  From the moment it was founded, it has always welcomed the best Cuban trovadores in a kind of crusade in favor of the so-called "intelligent song".
Intent on returning to the origins of the cultural center, which belongs to the Ministry of Culture's Artex Ltd. company, the first Gathering of Trovadores in Havana will take place at El Sauce. An initiative created by singer-songwriter Frank Delgado it honors the memory of Noel Nicola (1946-2005) and Santiago Feliu (1962-2014). Both of their legacies will be present via stories, songs or hints of these great artist's spirits whose songs continue to live on within the hearts of the Cuban people.
According to Delgado, the event is called "Life, I forgive you", alluding to one of Nicola's songs. "I have to forgive Life for what happened to Noel and Santiago who left us too soon. They both left an important mark on the Nueva Trova movement and were able to create a loyal and militant audience.
The event is set for July 5-9 and will focus on bringing together the best in trova that exists today in Havana. Therefore, on the opening night, at 8pm, Silvio Rodriguez will take the stage, a singer-songwriter who is capable of bringing together the most different of audiences with the beauty and depth of his lyrics and melodies.  That same evening, at 10:30pm, you'll be able to listen to Vicente Feliu and his guest artists in the Juan Formell Room at El Sauce, which can hold up to 200 people.
Following these performances, Buena Fe and Frank Delgado will play on Wednesday 6th; David Torrens, Adrian Berazain and Fernando Becquer on Thursday the 7th; on Friday 8th, Polito Ibanez will sing and on Saturday 9th, Pedro Luis Ferrer will put on a grand concert. This is the festival program that will be available to everyone as tickets to El Sauce will only cost 10 regular Cuban pesos.
The Kcho Romerillo Laboratory for Art socio-cultural project, located close by to El Sauce, will also host concerts by trovadores Tony Avila (on the 8th) and Ray Fernandez (on the 9th), who will perform for their audiences for free.
Another of the Festival's highlights will be the trade fair which will open its doors from 6pm onwards, selling cultural products related to trova, albums from various national record labels as well as a special release of 21 titles from the BisMusic Label catalogue.
This First Gathering of Trovadores in Havana has many forerunners such as the Festival Al Sur de mi Mochila, which took place in the Cienfuegos province, the Longina Festival, which is based in Santa Clara, Villa Clara; the Fidel Diaz Castro Peña, in EGREM's patio, the Tres Tazas Peña, which is directed by the trovador Silvio Alejandro, at the Pabellon Cuba and the "Acoustic" concerts, organized by the Pablo de la Torriente Brau Center.
Without a doubt, what motivated Frank Delgado the most was the now disappeared Festival Amistad which was organized by Playa municipality's Cultural Management, in the '80s, at the Amphitheater in the Almendares Park.
"This Amphitheater, which can hold up to 600 people, was an emblematic space for Havana's trova. That's why, at some point, I'd like to reclaim it for trova concerts. Who knows if we'll be able to hold the next edition there," he stated.
The author of the song Ustedes los trovadores (You the trovadores) also made clear his dream of having a store, online or real, dedicated to selling Cds with works from this music genre, where albums recorded by Nicola or the Moncada group before the digital era wouldn't be missed, as well as other more recent artists.