Floyd Mayweather in Brief Visit to Cuba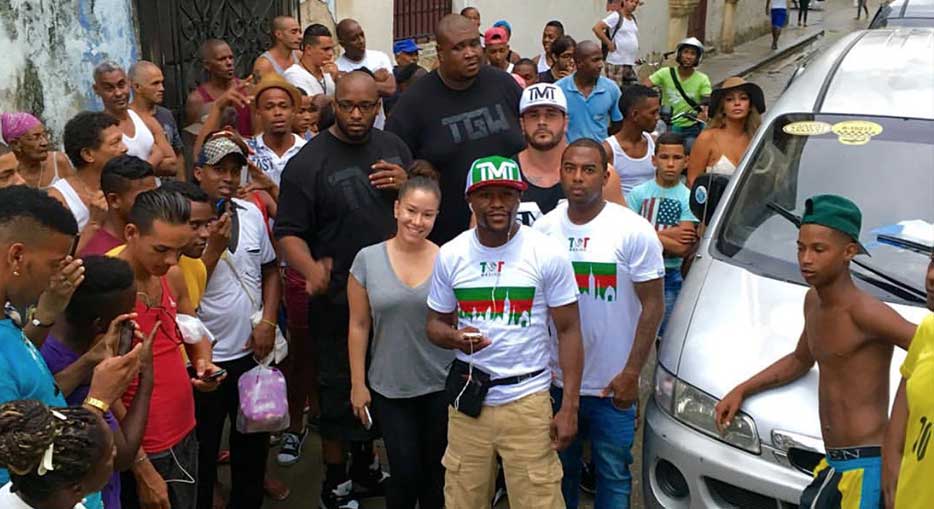 HAVANA TIMES — US boxing champion Floyd Mayweather made a quick visit to Cuba on Tuesday, former Cuban boxer Jorge Hernandez told dpa news.
"Floyd was here in Havana," explained Hernandez on the visit of famous US athlete, who spent only five hours on the Caribbean island, according to the former Cuban Olympic champion.
Mayweather, undefeated and considered one of the best boxers in history pound for pound, posted a photo on Twitter that shows him surrounded by children and bystanders on the streets of Havana.
Mayweather, who in September won the last fight of his career and established a perfect record of 49-0, visited the Morro Cabana fortress across Havana Bay before going to an iconic boxing gym in the heart of the city, told Hernandez.
"We were in the Rafael Trejo (gym)," said Hernandez, a former glory to Cuban boxing, who was a trainer of the island's national boxing team for several years. Mayweather then took a walk through the streets of Old Havana.
"People started to come out, he was joking with the kids," said Hernandez. Mayweatheer closed his brief visit to the island in the afternoon. "He promised to come back," said Hernandez.
Hernandez said Mayweather contacted him through Cuban boxer Yuriorkis Gamboa, also Olympic gold with the island and who deserted several years ago to fight as a professional abroad. Gamboa is a boxer now in the United States.
Several US athletes have visited Cuba in recent months after both countries initiated in December a historic political rapprochement after decades of hostilities.
The New York Cosmos played a match in early June on the island, more than 35 years after the last American professional soccer club visited Havana.
US musical stars have also discovered the island in recent days, a country almost "forbidden" for US citizens by their own government for decades. Pop singer Katy Perry was in Havana over the weekend.