From Camaguey, Cuba: Presents and a Threat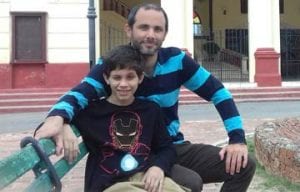 HAVANA TIMES — This Friday, independent journalist Henry Constantin, the director of La Hora de Cuba magazine and regional vice-president of the Inter American Press Association (SIP), was officially accused for "misappropriation of a legal standing" and if he goes to trial and a legal case is made against him, he could face up to a year in jail.
Constantin is one of the most recognized figures in Cuban independent journalism, who has decided to stay in Cuba and work from his native city of Camaguey.
The police visit to his home coincided with the birthday of his son Dante, who was turning 11 years old. Now, Constantin will be subjected to a precautionary measure which prevents him from leaving his home city, which will prevent him from attending a professional event in the United States and the SIP's mid-year meeting in Antigua, Guatemala.
In solidarity with our friend Constantin, Cafe Fuerte has reproduced the short, but moving text that the journalist wrote when describing his bitter-sweet day on Friday.
PRESENTS AND A THREAT
By Henry Constantin
Today, Dante, my son, my smile, my innocence, my hope, the greatest challenge and present that I have received until now, turns 11 years old.
Today, at midday, a police patrol car loaded with policemen also left a message at my house that I had to go to the Third Unit, where I have already been arrested once before.
A short time afterwards, friends told me that, this week, at least two of La Hora de Cuba magazine's collaborators had been pressured by people from State Security to accuse me of financial crimes, that I don't pay them for their work, and other things which have NOTHING to do with my principles, my conduct and that of La Hora de Cuba. These two, good people, refused to do so.
There is a dirty accusation against me, because they don't dare go straight for me. I will go to the police station instead of spending Dante's birthday with him. However, I have had time to give him a kiss and a hug and take a photo, and teach him over all these years, to be studious, honest, just, noble and brave. And that being like this here in Cuba is a problem, and that's why we have to change it.