Gaza Special Coverage on This Week in Palestine July 19-25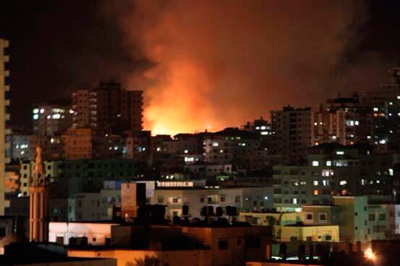 HAVANA TIMES — Welcome to this Week in Palestine – Gaza Special Coverage, a service of the International Middle East Media Center, www.imemc.org, for July 19th, to the 25th, 2014.
More than 700 people killed in Gaza as Israeli attacks enters their third week, meanwhile in the West Bank Israeli troops used lethal force to attack protesters killing six.
The Report:
By Friday of this week the Israeli ongoing offensive on Gaza has claimed the lives of more than 757 civilians. Moreover, the Palestinian health ministry says that there are well over 5,300 injured.
On Sunday July 20, Israel escalated its attacks and widened its ground offensive. Ground bombardment and aerial attacks have caused the death of entire families as those attacks are targeting homes, schools and hospitals.
On Thursday Israeli tanks fired shells at a UN school, which scores of residents have been using as a shelter. As a result 17 people were killed and at least 200 were wounded.
On the political level, Talks to end the ongoing conflict in the Gaza Strip intensified. US Secretary of State John Kerry is now shuttling between Jerusalem and Cairo. Israeli sources said that Kerry offered on Friday an outline for a truce in two stages. Stage one would be a ceasefire starting on Sunday July 27th.
According to the sources the second stage will start when the ceasefire takes effect with Palestinian, Israeli and international officials impark in talks over the security, economic, and political future of the Gaza Strip.
Khaled Meshaal, chairman of Hamas' political bureau, has called for lifting the Israeli siege on the Gaza Strip to render talks about a ceasefire agreement possible. Meshaal stressed the need to allow aid convoys access to the besieged area. Meshaal stressed that Hamas will never agree to demilitarization as part of negotiations.
Also this week, six Palestinian civilians were killed by Israeli army gunfire during invasions and clashes in a number of Palestinian communities. Israeli troops invaded Palestinian towns and cities and attacked Palestinians protesting the ongoing war on Gaza.
Two youth were killed during clashes with Israeli soldiers at the town of Howara, near Nablus in southern West Bank on Friday. Three more civilians were killed on Thursday, one in Jerusalem and two in Ramallah during similar clashes. Earlier in the week, two civilians were killed on Wednesday after being wounded by Israeli gunfire during clashes with Israeli troops in Husam village near Bethlehem city in southern West Bank.
Gaza solidarity protests were called for by Palestinian political and activists groups.
Also on Friday, at least 4 civilians were injured, one critical, when Israeli troops attack the weekly anti wall and settlements protests organized in a number of West Bank communities. Protests were organized at the village of Bil'in, Ni'lin, al Nabi Saleh in central West Bank in addition to Al Ma'ssara village in the south.
Conclusion
And that's all for today from This Week in Palestine – Gaza Special Coverage . This was the Weekly report for July 19-25, 2014 from the Occupied Palestinian Territories. For more news and updates please visit our website at: www.imemc.org. This week's report has been brought to you by George Rishmawi, and Ghassan Bannoura.