General Strike in Brazil Over Pension Reform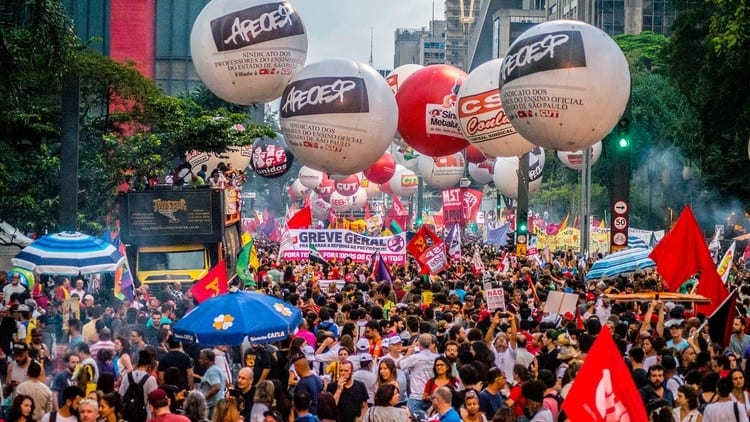 HAVANA TIMES – Tens of thousands of workers around Brazil on Friday joined a general strike against President Jair Bolsonaro's controversial pension reform plans, with protesters erecting burning barricades while public transport was affected in the main cities, reported dpa news.
The Sao Paulo underground and bus services were only operating partially, while public transport was partially paralyzed also in Salvador, Belo Horizonte and the capital Brasilia, local media reported.
Employees of banks, educational institutions, post offices and the state oil company Petrobras also joined the strike.
Protesters blocked roads, including a highway leading to Sao Paulo airport, according to newspaper Folha de Sao Paulo.
Police launched tear gas to disperse protesters in Sao Paulo and Rio de Janeiro. A car hit a crowd of protesters blocking a road, causing injuries to five people in Niteroi in Rio de Janeiro state, news portal Jovem Pan reported.
A woman was hospitalized after breathing smoke from burning tyres in Belo Horizonte. Several people were reported to have been arrested in Espirito Santo state in the south-east.
The strike had been called by trade unions to protest the Bolsonaro government's spending cuts in areas such as education and a pension reform, which still needs to be approved by Congress.
The government argues that the reform would create savings of more than 1 trillion reals (260 billion dollars) in a decade.
The reform would set the retirement age at 62 years for women and at 65 years for men. Many Brazilians currently retire already in their 50s.
Brazil's pension system has been a major contributor to the country's large budget deficits.
But critics say the reform would hit especially the poor, who start working earlier and would have to work longer.