German Deputy Chancellor Arrives in Cuba to Advocate for Opening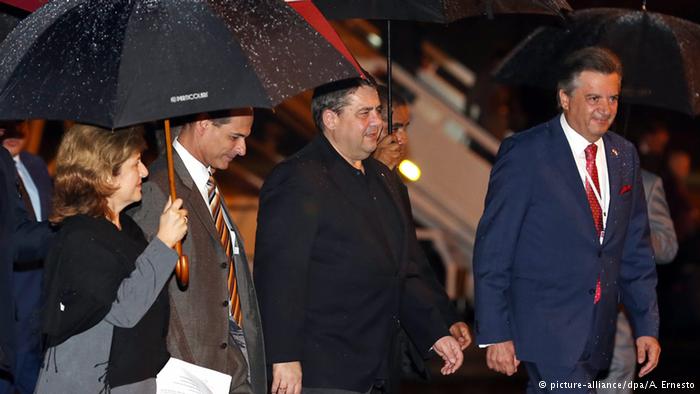 HAVANA TIMES (dpa) — Germany's deputy Chanceller and Economy Minister, Sigmar Gabriel, arrived in Cuba on Wednesday to back the economic opening of the island's economy and advocate for bilateral trade.
The purpose of your trip is to support "the policy of openness that Cuba itself is promoting," Gabriel said upon arriving in Havana for a three-day visit, the first by a German economy minister to the socialist island in 15 years.
The Social Democratic politician arrived to Havana accompanied by a delegation of 60 business people from various sectors.
"The first priority is to make it clear to the Cubans that we want a partnership of equals and medium-sized German companies need a framework of clear rules," said Gabriel, who asked for a reduction in the excessive bureaucracy on the island.
One of the objectives of the trip is to open a representation of the German business community that can operate as an interlocutor on behalf of the firms operating or interested in operating on the island, said Gabriel.
The leader of the Social Democratic Party of Germany (SPD) also welcomed the rapprochement between his country and Cuba, framed in the negotiations of the island with the European Union to sign a bilateral treaty, after years of a cooling in relations.
Gabriel was optimistic on the slow economic and political opening in Cuba in recent years, although he also stressed that he sees it as a gradual change "goes step by step." "You cannot expect miracles," he noted.
The German Social Democratic leader also spoke about his impressions regarding Cuba. "I am like many Germans," he said.
While on one hand he always found it "fantastic" how the Cubans defeated the dictatorship of (Fulgencio) Batista (1959), on the other hand looks critically at the current status of "human rights and freedom of speech and of the press ", he reflected.
Some 50 German firms currently operate in Cuba. However, trade between Germany and Cuba is low compared with other European countries like France and Spain.
Germany, Europe's largest economy, exported goods to the island for a total of only 224 million euros (240 million dollars) in 2014 and received Cuban imports with a value of just 33 million euros (35 million dollars).