Gioconda Belli: Poetry Can Defy Racism and Bigotry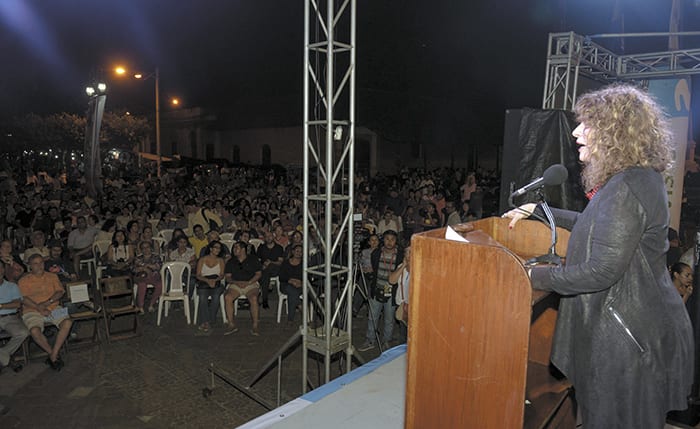 HAVANA TIMES – Author Gioconda Belli urged narrators and poets gathered in Granada, Nicaragua to exercise the power of the word "against all odds" to defend the world from racists and fanatics, reported dpa news.
Belli spoke Sunday night during the inauguration of the 14th International Poetry Festival in which more than 130 poets from 53 countries participate.
The poet and novelist invited the participants to "take on the energy of imagination and the beauty of the word to confront, against all odds, fear, racism and bigotry with the power of poetry," said the award-winning writer who is also president of the PEN International organization chapter in Nicaragua.
The author of "Waslala" and "The Inhabited Woman" among her vast works of poetry and novels, evoked before the large audience gathered in the majestic Plaza de la Independencia in Granada the legacy of the Nicaraguan poet Fernando Silva and the Honduran Roberto Sosa, to whom this edition of the festival is dedicated.
Belli also remembered with emotion the poet Claribel Alegría, Queen Sofia prize of Ibero-American Poetry, who died less than a month ago at 93 years old.
"I loved her, she was my friend and an extraordinary poet," the writer told dpa.
Before the formal opening of the literary event, which will run until Sunday the 18th, a panel on the "Challenges for Central American Cultural Integration" was held and attendees enjoyed a Nicaraguan folkloric ballet.
The photographic exhibition "Gloria Fuertes 100, Claw of the War" was also inaugurated, in homage to the Madrid poet (1917-1998) and which expresses in images the horror of the Spanish Civil War.
The poet Francisco de Asís Fernández, president of the Festival, affirmed that Granada and Nicaragua as a whole will become this week the "world capital of poetry," due to the number of participants and the public that attend its activities.
One of the most important events will be the presentation of the latest book by the priest and poet Ernesto Cardenal (Granada, 1925), entitled "On Earth as it is in Heaven" and with which his colleagues from the literary world will celebrate his 93 birthday.
Although the central venue of the festival is Granada, founded in 1524 by the Spaniards, the poets will travel to different municipalities in other provinces to read their works and participate in workshops and talks.
As is traditional, the XIV Festival will also offer free literary workshops, book and handicraft fairs, recitals with an open microphone, art exhibitions, musical concerts and the traditional "Poetic Carnival" in the center of Granada, scheduled for Wednesday.