Havana Breathes Luxury with Chanel Models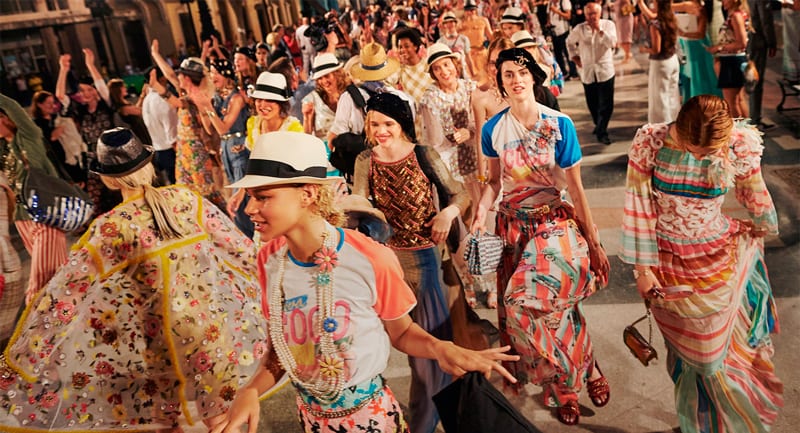 HAVANA TIMES — European glamor and luxury brought a new air to Havana with the catwalk of Chanel models on the Prado Promenade in Old Havana on Tuesday evening, something unthinkable before rapprochement with the United States. Among those who were present for the display were Mariela Castro, daughter of President Raul Castro and Antonio Castro, the son Fidel, reported dpa.
The famous French fashion company, responsible for decorating the Prado, were preceded in Cuba in March by the Rolling Stones, US President Barack Obama and his huge entourage as well as the Tampa Bay Rays.
Chanel's Karl Lagerfeld was the star of the show. The eccentric designer with dark glasses and long white hair appeared at the famous Prado promenade to present his new collection of fashion for the 2016/2017 season with a spectacular outdoor parade.
Weeks ago Chanel had chosen the Paseo del Prado, a wide avenue which starts near the sea and ends a few meters from Central Park and the Havana Grand Theater, to host the event.
Contrary to some previous rumors, neither the organizers nor the authorities prevented dozens of curious neighbors from watching the models at the invitation only event from their balconies. A light rain delayed the start of the fashion show which included supermodel Gisele Bundchen Brazilian or American actor Vin Diesel.
Among the best known local assistants were singer Omara Portuondo, Mariela Castro, the daughter of President Raul Castro,  Antonio Castro, the son of Fidel Castro, and the musicians of Gente de Zona, one of the groups currently enjoying international fame for songs like "La Gozadera".
In vogue with the place of the staging, the new collection of the "kaiser" took on several Cuban motifs as inspiration. The Chanel fashion line includes colors close to green olive, a tone associated with the Cuban Revolution, berets Che Guevara style and images on several items of the old American cars that still circulate in Havana.
Chanel also hired more than 150 "almendrones" (the old US cars) converted as an emblem of socialist island to transport guests around the city. Glittering "classic" convertibles at times paralyzed traffic on the streets of Havana.
Lagerfeld came out briefly at the end of the show with a bright jacket and his classical dark glasses. The designer then attended an exclusive reception in Old Havana. The organizers set up for the occasion huts imitating the typical Cuban countryside homes in the close off Plaza de la Catedral.
The glamorous parade of European high fashion was until recently unthinkable on the communist party ruled island. The gradual opening of recent years has generated great interest around the world to participate in the special moment of change. Many artists and celebrities have visited Havana after the thaw with the US was announced in December 2014, and now, Chanel gave a new look to Raul Castro's Cuba.