Havana Weather for August 4-10
Hot and some rain
By Yanet Diaz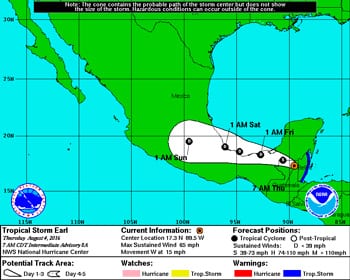 HAVANA TIMES – The hot and partly cloudy weather is expected to continue this coming forecast week. The chance of rain is scarce, although some scattered showers, mainly in the afternoons may occur. Winds will be from the east with speeds ranging between 15 and 25 km/h. High temperatures will range between 32 and 34° C (90 to 93° F) and the lows between 22 and 24° C (72 and 75 F). The sea surface temperature will be stable at 29° C (84 F).
Meteorological conditions:
Hurricane Earl is located in the western Caribbean Sea, however, the system will not affect Cuban territory as it moves to the west-northwest. The rest of the Caribbean Basin remains under the influence of the Atlantic anti-cyclonic ridge, imposing a regime of moderate to strong trade winds, inhibition of convection and rain and high temperatures.
Weekly forecast valid from Wednesday August 3
Thursday, August 4, max 33° C (91 F) min 24° C (75 F)
Rain in the afternoon
Friday, August 5, max 33° C (91 F) min 24° C (75 F)
Rain in the afternoon

Saturday August 6, max 33 ° C (91 F) min 24° C (75 F)
Partly cloudy

Sunday August 7, max 32° C (90 F) min 24° C (75 F)
Partly cloudy
Monday, August 8, max 32° C (90 F) min 24° C (75 F)
Rain in the afternoon
Tuesday, August 9, max 32° C (90 F) min 23° C (73 F)
Rain in the afternoon

Wednesday, August 10, max 32° C (90 F) min 24° C (75 F)
Partly cloudy