Havana Weather for December 23-29
By Eduardo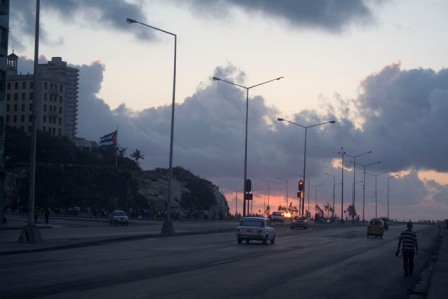 HAVANA TIMES, Dec. 23 — The weather this week will be influenced by a weak high pressure system that will give way for an extra-tropical low pressure system between Sunday and Monday.
Maximum high temperatures are expected to fluctuate between 19° and 24°C (66° and 75° F), while the low temperatures will be between 13° and 17°C (55°  and 63°  F).
The wind will be from the east at speeds of between 10 to 20 km/h until Sunday, when it will rotate and start coming from the south of the region in the afternoon.  In the west of the country, it will reach velocities of between 20 and 35 km/h.
The sea temperature will be on the 21°C (70° F).  Strong surf on Monday is expected continue until the night.
Summarizing, we will have one week with fresh temperatures, something cold entrance the week and with some occasional rain.
Day-by-Day Forecast

Thursday, December 23 – max 24°C min 16°C
The day will be partially cloudy

Friday, December 24 – max 23°C min 17°C
The day will be cloudy

Saturday, December 25 – max 23°C min 15°C
The day will be partially cloudy

Sunday, December 26 – max 22°C min 17°C
The day will be partially cloudy

Monday, December 27 – max 20°C min 16°C
There will be occasional rain

Tuesday, December 28 – max 20°C min 15°C
The day will be partially cloudy

Wednesday, December 29 – max 19°C min 13°C
The day will be partially cloudy