Havana Weather for Feb. 7-13
Good Weather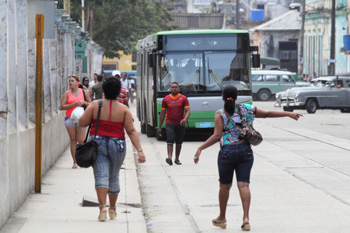 Eduardo A. Fernández Díaz
HAVANA TIMES — We will have warm days, partly cloudy with isolated showers in the evening, these being more likely after Sunday. As there will be some moisture, the humidity will be greater than in the preceding period, yet the weather will be excellent for walking or going to the beach .
High temperatures will range between 27° and 31° C (81-86 F) on Friday and Saturday. The lows will average around 19° C (66 F).
Winds will be moderate from the east. The sea surface temperature will reach 24° C (75 F).
Weekly Forecast valid from Thursday, Feb. 6
Friday February 7 max 31° C (88 F) min 20 ° C (68 F)
sunny
Saturday February 8 max 30° C ( 86 F) min 20 ° C (68 F)
sunny
Sunday February 9 max 28° C ( 82 F) min 19 ° C ( 66 F)
Partly Cloudy
Monday February 10 max 27° C ( 81 F) min 18° C ( 64 F)
Partly Cloudy
Tuesday February 11 max 28° C ( 82 F) min 19° C ( 66 F)
Partly Cloudy
Wednesday February 12 max 29° C ( 84 F) min 21° C (70 F)
Partly Cloudy
Thursday February 13 max 27° C ( 81 F) min 20° C (68 F)
isolated showers