Havana Weather for November 14-20
Rain, cooler temperatures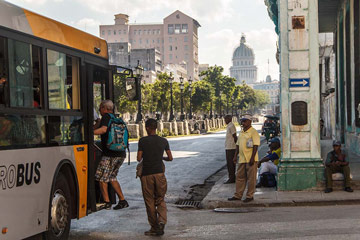 Eduardo A. Fernández Díaz
HAVANA TIMES – We will have considerable rainfall with the passage of two cold fronts, one at the beginning and another the end of the term. Temperatures will be cooler than the previous period.
The high temperatures will average 29° C ( 84 F) and the lows 23° C ( 73 F) .
Winds will be moderate, blowing from the east.   There will be dangerous seas for small boats.
The sea surface temperature will reach 28° C (82 F).
Weekly Forecast valid from Wednesday 13


Thursday November 14 max 28° C ( 82 F) min 23 ° C ( 73 F)
Scattered showers
Friday November 15 max 29° C ( 84 F) min 24 ° C ( 75 F)
Scattered showers
Saturday November 16 max 29° C ( 84 F) min 23 ° C ( 73 F)
Scattered showers
Sunday November 17 max 30° C ( 86 F) min 22 ° C ( 72 F)
Scattered Showers
Monday November 18 max 29° C ( 84 F) min 23 ° C ( 72 F)
Partly Cloudy
Tuesday November 19 max 28° C ( 82 F) min 24 ° C ( 75 F)
Showers
Wednesday November 20 max 28° C ( 82 F) min 23 ° C ( 73 F)
Showers