Honduras Crisis Shifts to Costa Rica
HAVANA TIMES, July 7 — US Secretary of State Hillary Clinton and deposed Honduran President Manuel Zelaya met at the US State Department in Washington on Tuesday, agreeing to a mediation effort in the Honduras conflict by Costa Rican President Oscar Arias.
Zelaya told a press conference he would travel to Costa Rica on Wednesday, hopeful that a negotiation will lead to a "restoration of a democratic government in Honduras."
Meanwhile, Clinton told the press that she had spoken with Arias and that he is willing to immediately take on the role of mediator. De-facto President Roberto Micheletti also agreed to the negotiations.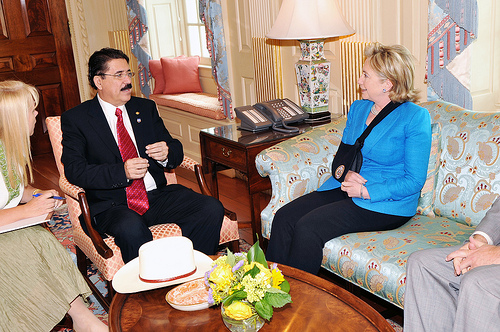 On June 28 the Honduran military took over the country, detaining the President at gun point and putting him on a plane out of the country.
The entire body of the UN General Assembly (192 nations) has condemned the coup and the Organization of American States (OAS) suspended Honduras on Sunday July 5.
Also on Sunday, President Zelaya tried to return by plane to Tegucigalpa but was impeded by the army which placed obstacles on the runway and also threatened to shoot down his plane.
Thousands of Hondurans on hand to welcome Zelaya were disbursed by tear gas and gun fire from the military. Protests continue on Tuesday demanding Zelaya's return to the presidency.