Hundreds Line up to Buy Chicken at Havana's Carlos III Mall
Vicente Morin Aguado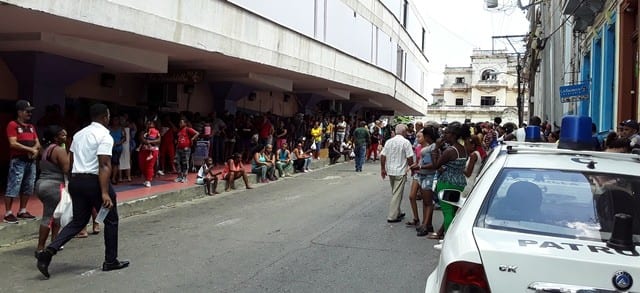 HAVANA TIMES – Saturday awakened with hundreds of people forming a long line on both sides of Calle Seco, leading up to the Carlos III Shopping Plaza. With police surveillance, they were waiting their turn to buy frozen food, mainly chicken pieces at the official price of 1.70 CUC, (=USD) a kilo.
"Many of us were here to wait for the opening since dawn; there are a lot of people, we do not know if we all will be able to buy," said Julian Lasalle, who added that "although they have limited the sale to 5 kilograms per person in the queue, the demand is a lot. "
From the balcony of his apartment on the second floor of a building adjacent to the establishment, among the largest in the city, an unidentified lady said: "In the 22 years of existence of this plaza, I never saw so many people waiting for it to open to buy a product."
Besides the chicken pieces, the chilled food sales area also offered imported Gouda cheese at 8.10 CUC per kilo and small packets of minced meat, which is enough reason to cram the store.
The general comment is that it would be better to return to the rationed sale of the initial decades of the revolution, because this situation with never-ending lines is unsustainable for the majority of the working population.
The scarcity of products contrasts with the building repair going on at Carlos III, which represents significant costs in building materials. People ask shouldn't they instead invest in purchasing the food products that are missing today.
Havana residents have become accustomed to looking afar at the doors of the commercial establishments that sell in hard currency, the only ones that sell some basic foods outside the rations, although recently limited in the amounts that each customer can buy. If you don't see a considerable number of people waiting outside, don't bother, it's not worth it to come because there will be nothing good inside.