Hundreds of Cubans Traveling to Panama to see Pope Francis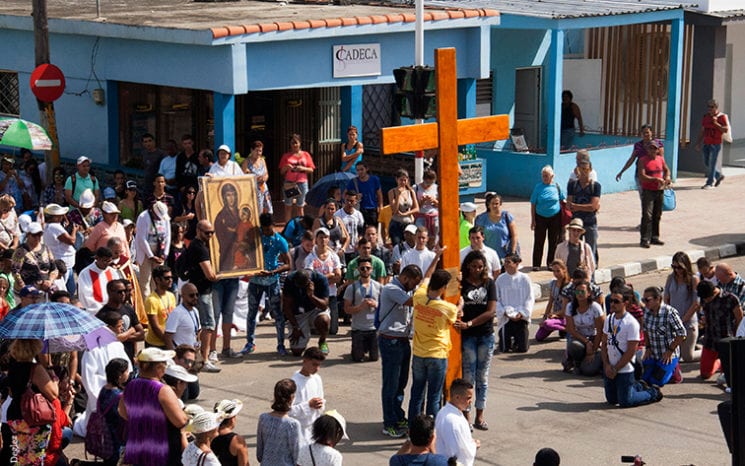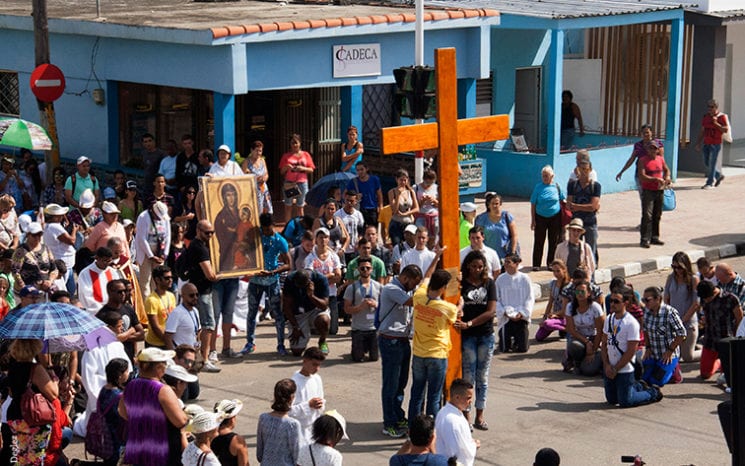 Cuba participated for the first time in a World Youth Day of the Catholic Church in Buenos Aires, in 1987. The sum of all its participants since then is less than the current delegation
HAVANA TIMES – There are 471 Cubans about to travel to Panama for the Catholic Church's World Youth Day. Many have been saving for a good while to pay for the reunion with Pope Francisco and ask him to pray for their Island, reports the AFP.
"We had to pay for the trip, which is very difficult because the salaries here are not enough for that," Ramon Elejalde, a 44-year-old Cuban, who works as a cigar roller in a state factory, told AFP.
Then, "I had to ask for loans," added Elejalde, who held a vigil together with a hundred young people with a view to World Youth Day at the Church of Santo Ángel Custodio, in Havana.
The cost of the plane ticket, medical insurance, lodging and food add up to US $680. It seems cheap, but it's the equivalent of 22.6 average montly salaries in Cuba.
"More than 60% of the delegation has self-financed their trip and stay in Panama," venue of the meeting from January 22 to 27, said the priest Jorge Luis Pérez Soto (37), advisor to the Youth Ministry of the Archdiocese of Havana.
All those going were born and lived in a socialist country, which for 30 years (1961-1992) advocated atheism and that only in 2019 will be constitutionally secular, although 85% of the population professes basically syncretic beliefs, and mixes Christianity with African Religions.
In 1961 the government of Fidel Castro nationalized education and the Catholic Church lost its economic support. Since then it defines itself as "poor".
"A large percentage of young people have been subsidized by other sister churches," such as the United States and international Catholic institutions, Perez added.
Church-State relations have been difficult in the 60 years of revolution, with periods of frontal confrontation, as in the 1960s, and others of cohabitation. The visit of Pope John Paul II in 1998 and the end of atheism opened a coexistence not without differences.
In the neighborhood discussions on the new Constitution, which will go to a referendum on February 24, the bishops joined evangelicals in rejecting egalitarian marriage and lamented "the absence of recognition of the diversity of political opinion."
Cuba participated for the first time in a World Youth Day in Buenos Aires, in 1987. The sum of all its participants since then, including the 200 that went to Toronto, Canada in 2002, is smaller than the current delegation.
In addition to the closeness to Panama, "the whole series of economic changes that have taken place (in Cuba), the opening to private initiative (…) allows families abroad to cover expenses," explained Perez.
"I had to sacrifice a lot and limit myself to raise this money, but my parents also helped me, my family from abroad," said Brayan Gavilan (24), an employee of a state warehouse and waiter in a private restaurant.
Pope Francis visited Cuba in 2015 and asked the young people not to lose their ability to dream. Leonardo Fernandez, on behalf of the young people, then requested "something special."
"May he renew in us the hope that we can grow, study, work, walk and be happy in this complex reality that we have to live in."
María de la Caridad Santos (23) studies French and is one of those who needed to cover her expenses.
"For me the changes are slow" but "I do not want to leave Cuba. I'm excited to go (to Panama) as a Cuban, with my flag (…) because it is part of my identity," she says.
There are 11.2 million Cubans living on the island, and outside, especially in the United States, another two million. Many university students emigrate due to a lack of opportunities, which constitutes an economic drain on the second oldest population in Latin America, after Uruguay.
For the student of Humanities and Episcopal worker Roberto Rasúa (25), the calls of the Pope and Fernandez are valid.
"I think it is fundamental that a young Cuban opts for our reality, although it may be difficult and complicated, it's our reality," he says. "I still have a lot to do here."
Thirty Angolans also participated in the vigil, of the 210 that will travel to Panama and use Cuba as a bridge. A group of young Russians spent the night in Havana for the same purpose. "Cuba, because of its geographical position, has a vocation to seek unity," says Perez.