Hurricane Ernesto Approaches Yucatan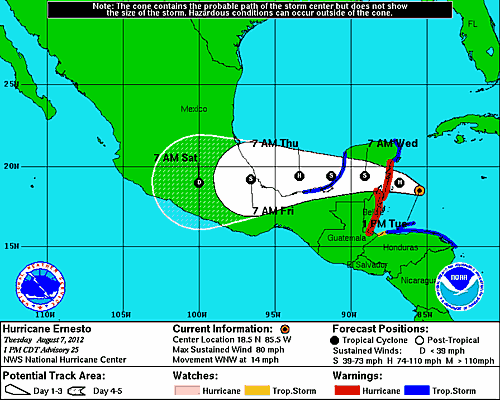 HAVANA TIMES — What was tropical storm Ernesto is now a hurricane as it churns towards the Yucatan peninsula for a probable landing either late Tuesday or early Wednesday.
At 1 p.m. EDT, the National Hurricane Center (NHC) in Miami located the center of the storm at 183 miles from Chetumal, Quintana Roo, Mexico and packing sustained winds of 80 mph.
Local authorities are on alert on Cozumel island and the entire Yucatan coast including Cancun.  Some 1,300 tourists have already been evacuated from Ubero a Xkalac, in Othón P. Blanco.
The storm will most likely continue to strengthen as it approached the coastline and then weaken over land, noted the NHC.
"Ernesto is expected to produce rainfall accumulations of 3 to 5 inches along the northern coast of Honduras…with isolated maximum amounts of 8 inches over mountainous terrain.  Total rainfall amounts of 4 to 8 inches with isolated maximum amounts of 12 inches are expected over Belize, the southern portions of The Yucatan peninsula, and northern Guatemala, added the NHC." The heavy rains can lead to dangerous landslides in mountainous areas.